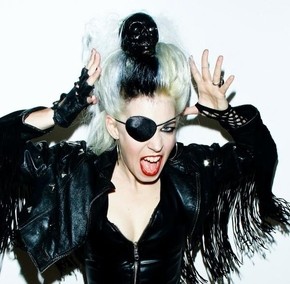 Impedance Records are excited to announce the release of the full length album from Berlin artist Mignon, entitled 'Kiss of Death'. Produced in Los Angeles by Mignon and Rob Hill   (Cypress Hill, Korn, Everlast), the album will be released in the US on September 13th, backed by extensive touring.
Stream the album 'Kiss Of Death': www.mignonmusic.com/kod/flashmp3player
 
Whilst Mignon's debut album "Bad Evil, Wicked and Mean" was influenced by her electronic background, the new album amplifies her true passion for punk rock and metal. Gone are the domineering keyboard sounds, introduced is the double bass drum and even heavier guitars. Mignon now underlines the emotions of each song with influences of rockabilly, surf and heavy metal. "Kiss of Death" is a more personal album, picturing the highs and lows of love and desperation, but also reflecting her perception of society, greed and violence and even touching the subject of religion. "Kiss of Death" presents itself with catchy metal riffs and vocal lines, displaying pop tunes fully loaded with a punk rock attitude.