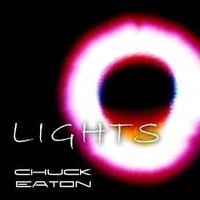 It would seem there is a time and place for everything within the world of music. That being said, if feel-good love songs and easy listening are your thing, Sao Paulo singer/songwriter Chuck Eaton delivers with his sophomore effort, Lights–14-tracks of emotive lyrical matter over a myriad of clever instrumentation. Going into the album, try to think of "fireplace and glass of wine with someone special" music.
The album opens to "That's All We Need" with clever electric riff work over an eerie synth background. Reflective lyrics lay just above backing synth-generated strings that reinforce the love song ethos of the track. It only strays from the genre briefly with a soaring guitar solo at the midpoint. "Drenched With Rain" is an up-tempo acoustic strumfest with tropicalia percussion and acoustic/electric guitar interplay. Lyrically, the track is reminiscent of a Jimmy Buffet tune while the catchy electric riff work throughout sounds of a Dire Straits song. The storytelling lyrical matter is vivid while the musicality if good and vast. Title track "Lights" opens to dreamy synth and ethereal lyrics with the gradual advent of acoustic picking and strums. The demure vocal delivery adds to the semi hypnotic vein in which this track runs. Finally, "What Really Matters" is another down tempo love song with the heartstring, contemplative lyrics. The tandem of acoustic strums and picking shows that beyond songwriting Eaton's prowess with guitar is present as well. Musically, the track is marked by simplicity allowing the lyrics and vocal delivery to stand at the foreground.
First things first, this record is not going to be for everyone. But again, if the love song, easy listening camp is right up your alley, then this is a very good representation of the genre. It is apparent that Eaton's focus lies in his songwriting; but the ability and versatility of his musicianship should be noted as well. He knows his way around a guitar for sure and does well in song arrangement as well. As a whole, the album I well put together, contains well-written songs and well… it just may be the soundtrack any and every love story out there.  
www.reverbnation.com/chuckeaton      
by Chris West – cwest@skopemagazine.com
[Rating: 3/5]