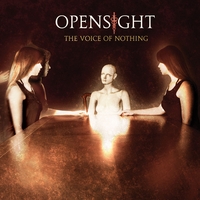 Columbian prog metal outfit Opensight showcase their technical prowess and range of versatility on their new five-track EP, Voice Of Nothing. Despite their commitment to metal, styles and moods abound in lieu of the brevity of the album. Leaning heavily on guitar and deft drum work, it's the musicality that shines on this one.
The album opens to "Only When" with heavy staccato riff work and a drum barrage just underneath. The lyrical delivery is a bit subdued with the constant chug of guitar but the opener is representative of the album as a whole and certainly sets its pace. At the midpoint of the track the ethos changes to an instrumental measure of dueling ride cymbal versus bass line until this gives way to the guitar chug and a soaring lead solo. "Deleted Scene" is perhaps the most far removed from the album persona with it's opening of weepy psychedelic guitar and slight drum taps. Melody dictates this track until the lyrics and chug guitar return. The lyrical delivery is more prominent on this track and really stands at the foreground while the musicality retreats to the back ever so slightly. Again, just past the midpoint the instrumental break takes over briefly leading in the outro. "Skeptic's Creed" is a guitar and drum juggernaut right from the opening. The aural assault is bolstered by the lyrical delivery that perhaps show's Ivan's range best. The track moves through several time changes and styles making it the largest amalgam of musicality on the album. It's a fitting track to end on.
Opensight has delivered on this EP. The album sounds "clean" but not to the point of "post productioned to death" with a bit of the rawness preserved. The musicality at the disposal of these guys is vast and they are clearly unafraid to incorporate a myriad of styles into their body of work. All in all, a respectable outing.
by Chris West – cwest@skopemagazine.com
[Rating: 3/5]