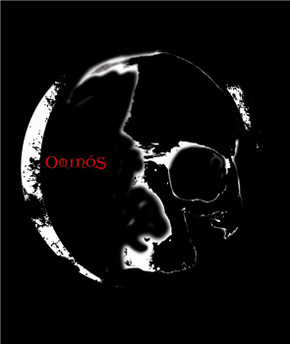 Man it is getting hot out there. I do not know if it's the weather or this interview I am about to post with a metal band out of San Francisco by the name of Ominos. These guys have created a band that I was impressed by how they have totally immersed themselves in what they see metal music as not only in sound but in life. With hard songs like "Those Before Us" and "Step Up" you are just immediately took over by the music. I warn you to embrace this Q&A with caution as these guys do not hold anything back.
Stoli: Where are we talking from today and how do you feel about the high gas prices?  
(Will) So I am talking to you from San Francisco.   In terms of gas prices I guess it's one way to control gas consumption, however is an unfair and arbitrary decision of the oil producers and distribution companies.   It sucks that it restricts us local bands to plan a good tour since most bands are always pretty close to broke, spending every penny to perform the next show.   But I guess if you would to lower gas price by half today, we will most likely encounter a cluster fuck of traffic that won't help anyone, probably waste a lot of gas just from idle cars.   I also suppose the tree huggers and hybrid car drivers are giving us the bird while they laugh at our faces for draining our money on gas.
(Kavon) What the fuck is this question? I hate the gas prices. Obama better start fixing that shit.
(Ryan) Welp, I'm responding from Copacabana in Rio De Janeiro at the tail end of their fall, and gas prices? i feel no need to complain. petrol is obsolete and a skeletal indication of consumption mongering. we return to it like battered spousal abuse victims screaming "thank you! may i have another?". oil is only a resource of preference… the peoples choice, the price is only a grim refection in the mirror of our dependence on vanity. go ahead increase the number on the tag, this flogging is self inflicted and we are god damned thirsty addicts. nobody is twisting our limbs. we love carbon monoxide inhalation, the pricier it gets? eventually, it may be considered a delicacy. i drive a motorcycle and even I'll admit…fossil combustion feels great between the legs. neener
(Justin) Talking to you from Oakland, CA. Nowhere nearly as exciting as Ryan in Rio, but what can you do… Gas prices are horrible, can't wait until they hit $5 again… Gotta love our capitalist economy (laying the sarcasm on thick, if you couldn't tell from the written response…)
(Sultan) Bullshit!!!!!! i cannot believe how bad it is now days.
Stoli: How did you come together and name the band Ominos?  
(Will) The band itself came together around September of 2010, a few months after Sultan and I released our first EP "Ominous Demos".   From there our goods friends decided to join our project to become an official band.   The band name Ominós was a suggestion made by Sultan, a Catalan word originating from the Latin word ominosus meaning portending evil.   As Nietzsche would say, "good" has always been associated with older generation's tradition and values, while the new (younger generation) is often considered "evil".   Heavy metal is still a relatively new genre compared to the blues, jazz, and various forms of classical genres, and has been labeled "evil" by many societies.   With the ironic sense of society's interpretation of good and evil, we named it Ominós to carry on the empowering aspect of heavy metal to say "fuck it" to the social norms and bullshit we have to live with.
(Justin) I jumped on board late, after Will and Sultan had already picked up Kavon and our previous drummer. I knew the guys were practicing one day, and thought I would stop in and see how things were coming along; at this point, they were shooting for a 4-piece with Will at the lead. Will had actually come to me prior to, and asked if I was interested in drumming for the band, but with my little experience in metal drumming, I respectfully declined. I knew the sound that needed to come from the drummer to make this band, and I knew that I could not provide that currently, so I wasn't going to hold them back, even though I would have loved to pull a Chris Adler and teach myself while I worked with them. Anyway, back to that day, I was listening and enjoying myself, of course, while they were tearing through songs. They came to a cover they were working on, "Blacken the Cursed Sun", which is definitely a favorite Lamb track of mine. As they were running through it, I picked up an extra mic and started screaming with Will. Once they finished, all a little confused, they asked if I was singing on it too. Responded "Yes, I sure was." Sultan had us play it again with me singing alone, and I guess you can say the rest is history…
(Sultan) It has been a long time to actually get this project into a band considering it was just Will and I for about a year messing around bouncing songs off one another.   But I am proud to see what this band has become, and look forward to what we are about to unleash!
Listen To Ominos:
Stoli: You recently had to break up with your drummer. What went down with that situation?
(Kavon) We can't discuss this. Legal issues are apparently preventing us.
(Justin) We realized that we were beginning to split off from eachother. We felt Cliff was trying to take the band in a separate direction from the rest of us. There were a few instances where this became more and more clear, and while the issues weren't really prevalent at the time, we felt that this was going to cause issues in the future. Cliff is and will continue to be an amazing musician, and although it really hurt to have it come to this, we felt it was for the better.
(Sultan) I hope for the best for him, he is really talented and cool. But his music direction started to differ from ours so we had to let him go.
Stoli: There are five guys in the band. Are you guys friends or is this a music based relationship?
(Will) I feel that by now everybody in the band is in this as family.   We all were friends with one another through each other in different circumstances for varying amount of time.   Kavon, Jusin, and I were all college schoolmates at the University of San Francisco, Sultan and I were friends through partying with musicians in SF, and Sultan has been friends with Ryan as they both work at Guitar Center in San Francisco.   I couldn't ask for a better band dynamic than this.
(Justin) We are definitely friends and we are growing to become better ones. I went to school with Kavon and Will at USF, so we have known each other for a while now. I met Ryan and Sultan through Ominos, but I wouldn't consider them anything less than a friend. I'd say more like a brother at this point…
(Kavon) We were all friends in some way before the band formed. Justin and I knew Will, and Will and Ryan knew Sultan. It's one of the reasons why I love this project so much. Not only is it music I want to play, more than all my previous or current music projects, but the band has fun. We don't get threw a practice without killing a bottle of whiskey and smoking an 1/8th of weed. I think everyone in the band is in this thing for the long haul. We all want to see ourselves touring around the world, playing this music, and without a relationship based on friendship first, you'll never make it that far.
(Ryan) music based relationships are volatile and bound to burst at the seams at any moment, exciting eh? i believe it was Marquis De Sade that said pain and pleasure are one and the same. music based relationships are about point A to point B. and friendships are merely just about "the point". to function in a thrash metal band is a combination of the 2…go for the ride and keep each other accountable along the way. heavy metal is a strong sodder that binds no matter how chaotic and insane this shit gets… in the end it's neither. i call it a divine brood, a brotherhood. we will diversify every different fashion of friendship or relationship on this wild ride.
(Sultan) We're more than friends, were brothers and we just happen to love and be passionate about the same music.
Stoli: What metal band do you guys respect & what band do you dislike?
(Will) Well, the bands who I respect has been Carcass, Alice Cooper, Sepultura, Pantera, Iron Maiden, Black Sabbath, X Japan, Megadeth, Metallica, Arch Enemy, Children of Bodom, Death, Cavalera Conspiracy, Slayer, Testament, etc.   I generally respect most musicians of all genre since everybody has their own way of expressing what is true to them, but bands/artists I don't like are the ones using autotuners, triggers, and other recent technologies to make them seem like they can actually sing or have genuine talent but what I hate most of all are bands/artists that are perpetuating public issues through their so-called music.
(Kavon) I'm a personal fan of the "New American Metal" sound. I love Lamb of God and don't care how mainstream they've become. I idolize them and want this project to make it to that level. With Lamb of God aside, I'm a huge fan of Unearth, As I Lay Dying, All the Remains, Trivium and Devildriver. My roots are obviously of a different breed, having started listening to Darkest Hour, Majority Rule, Death, Cryptopsy, Childron of Bodom, Arch Enemy, Dimmu Borgur. Then you have the classics in Metalica, Slayer, Pantera, etc. I was very open when I approached the genre as a teenager. I would give anything a fair listen. But these days, I like fast and heavy, and I feel as though we deliver that in the music.
(Ryan) ….hrrmm… vague… I'll just generalize with this. heavy metal is a "no bull shit policy, son of a bitch" the line in the sand has been drawn by the godfathers in black sabbath. give what you got a good shake and respect will trickle into a pure manifestation, and the cream rises…respect is earned…my opinion doesn't measure, but the honest tempering flame consumes all that is not worthy….and fuck limp bizkit.
(Justin) First band that comes to mind is Lamb of God. They were the first band to really open my eyes to the glories of metal. Randy is my idol and, in my opinion, has the best metal / screaming voice to date. Chris is definitely another idol. Being able to switch from guitar to drums and reach the level he is at today, does nothing short of inspire me to evolve into the musician I want to be. The work that Willie and Mark put in is the icing on the cake.
No band to list on the "dislike" front…
(Sultan) My favorite band of all time is Annihilator and Jeff Waters is my favorite guitar player. Other bands that i love are Pantera, Metallica, Testament, Lamb Of God, Arch Enemy, Dissection, Death, Trivium, King Diamond, Mercyful Fate, Overkill, Iron Maiden and Dream Theater. I don't dislike other bands, if i don't listen to a certain type of band or genre its cause its just not my vibe.
Stoli: I really like your song "Scar-spangled Banner." What does that song mean to you?
(Will) Though the title is awfully close to "Star Spangled Banner", the song is not intended to be an anti-US song.   I suppose what I am trying to convey is that there are people living their lives that are dictated by peer pressure, societal socialization, government law, and so forth.   These sociological structures promote people to become what their society idealize and prefer.   In other words, promoting how not to be yourself.   And it hinders the option for individuals to think for themselves: to find out who you are, what you want to do, what you can do, and what is meaningful in your life.   "Right" and "wrong" are just words to define what is good or bad in a particular society, often defined by those with power and privilege that has no clue what it is like to be without power and privilege.   You only have this present moment to live life to the fullest.   Would you rather prefer a life that is prescribed to you by others or to find out and pursue what you know/feel is best for you on your own?   It has been taking a while for us to put this song in our set list since we seem to keep getting distracted with new songs but hopefully we will be performing this song live.
(Ryan) tasty title eh? i foresee a record title perhaps? every once in awhile you get one that is felt in such a way that is tempting to name every song that same title…kinda like George foreman naming all of his kids…
(Justin) This song is Will's baby, so I do not have much to comment. We have yet to incorporate it into the set list, so I have not spent much time with it. Hopefully, I'll have more to say on it when we do so…
Stoli: Who writes most the song lyrics or is it a collaborative effort?
(Will) Most lyrics are written by either Justin Harris or myself but with inputs from everyone in the band.   Everything on the first EP is currently containing only my lyrics and vocals, but the upcoming EP as a full band will be featuring collaborative work and a lot more of Justin Harris' lyrics as lead vocalist.   All I can say is that I'm loving the diversity of message now with Justin in the mix!
(Justin) Will was doing the writing before I jumped on board. The lyrics for the songs that were written before I joined have stayed the same, except for a few parts we added, which I then laid some new lyrics over. Since, I have been taking care of the lyrics primarily. I really dig the stuff that Will has put out, his writing style is very different from mine, and I would like that to remain a part of Ominos. Although I will be taking the reigns in this department, I am definitely into the others adding on and providing input, both on the lyrical and vocal side as well.
(Sultan) WE ALL DO AS A TEAM, hehe!!!!
Stoli: Do you make music for the passion or for the money & fame?
(Will) If money was my priority, I wouldn't have posted all the songs on our first EP for free nor would I spend my free time volunteering at a inner-city youth center since I could easily fill the time with work that pays.   Though ideally I do hope I can support myself financially just with music, probably fund the excess income to something more purposeful like a genuine non-profit organization.   I don't think fame is something you should aim for unless you are some sort of pathetic, narcissist deuchbag that just wants attention for nothing special, sometimes known as pop celebrities.   I wish not to be seen as anything special since we are all one and the same regardless of any personal background and what we do in our lives, unless you are just that scumbag that needs to feel that you are above others or you are that fucked up individual that needs to be overcompensated for something.   All I know is that the longer I keep up with my metal music, I have been lucky to come across and made many great connections with many unique individuals that I am thankful for supporting our band, and grateful that our metal family is growing in numbers every day.
(Kavon) Music is my passion, and it always will be. Fame isn't something that motivates me. I am a little more focused on the money part, but who isn't. A lot of people want to make a living doing what they love, and that's my goal. I still have a day job, and work in my free time on my music career. I want my passion to be what hands me my paycheck, and that's why I play in another band, as well as DJ. So yes, I'd like to make money for the music I make, go fuck yourself if you don't like it. I'm not asking for millions, but if i could make 40K a year on solely music, that would be a dream come true. This music, without a doubt, is my passion.
(Ryan) lemme put it this way… living in San Francisco, ya get asked for shit constantly on the street by beggars, crackheads and doomed hippies. my usual response to street leaches is simply this, "I'm a musician…i should be asking YOU for change and a cigarette" and typical they immediately decline with the understanding that i have nothing to spare. the arts doesn't pay and I'd be a damned fool to enter this business for money and/or fame, if popularity and acquiring materials are motive? then ya might as well eat shit and die now. we are in this because our passion, our bane, is a fierce and fickle, wailing bitch. much like Semore in the little shop of horrors. do you really think feeding blood to an alien plant was for fame and fortune? only at the surface perhaps, but the plant was in charge the whole damn time… just ask the dentist.
(Justin) The passion for sure. Music makes it easier to breathe, I couldn't imagine my life without it. I'm not going to say that the money and fame is not a perk, but it is not the driving force by any means. We do this because we love it!   But Fame? that's bullshit. Fame is something that most musicians in this genre aren't interested in. This is a genre of the anti-culture. If I wanted fame I'd be making a shitty club rap song or producing trance music. I do want to reach a level were people KNOW Ominos. If you like metal, we're a really solid band and I want as many people to hear our music as possible.
(Sultan): PASSION and LOVE FOR THE INSTRUMENT and MUSIC!!!!!!!
Stoli: How much do women & relationships in your life help inspire your song writing, examples?
(Will) I have never been in a relationship (unless one week of dating counts), and most of my lyrics are inspired from the void of personal interaction with people but also empowering yourself by yourself.   I've always always been the outside observer for the most of my life as you might assume from the song lyrics of "Ominous", "Step Up", and most obviously "Out of Place".   Who wants to hear a "whambulance story" in a metal tune about bad relationships anyways?   That would just be pathetic; move on and get a life!   At least that is my stance, but everybody has the right to place varying level of meaning of what they experience/encounter in life, and if intimate relationships are what you find most valuable to you then nobody has the right to say otherwise to prove you wrong.   To each is their own.
(Justin) Women and relationships are an inspiration, but not a key component. I feel like a few of these will be incorporated into our song list, but not many; there are plenty of other roads to venture down.   At this point, the only example I have is from our latest track, "Torment Me". I wrote these lyrics about the falling out with my ex about a year and a half ago. More so about the actions I took and my mistakes that lead me to the present… It is still a bit of a soft subject if you couldn't tell haha
(Ryan) Feelings of women and relationships seem to be omnipresent in times of creation. simply because it taps directly into the part of the Psyche that functions the sense of belonging, rejection and egotistical grounding. perhaps we wear these experiences like badges or stripes from emotional guerrilla warfare and we feel overwhelming pride that we came out the other side alive and breathing. beating our chests like alphas in the end… and by golly there is nothing more gratifying then jumping up and down screaming about it with a large room full of crazy bastards that can connect and communicate those ordeals back. i suppose it's group therapy. taking inventory on how fucked up we actually are and celebrating the putrid aftermath. women are like deities when it comes to song writing it seems. time to make another blood sacrifice and write
(Kavon) Why let a fucking she-devil deserve the recognition. But I don't write the lyrics. Justin & Will, if you're writing pussy ass, emo sounding, "this girl broke my heart" and "this girl is the love of my life" lyrics to our songs, I'm going to kick your asses.
(Sultan) My woman is the source of my inspiration but i write music based on how i feel about certain political issues or anger i feel towards something.
Stoli: Your sound is aggressive & loud which I love from metal rock. Is that how your personality is as well?
(Will) I guess so.   I don't take shit from anybody and am quite the trash-talker that is not afraid to point out if someone is being an idiot by ignorance.   Heavy metal is an unapologetic counter-culture genre.   If you don't like it, good for you.   At least you have figured something out for yourself (clap clap).
(Kavon) Keep in mind that the demo you probably heard isn't the best quality. Obviously we veiw it as aggressive and loud, but I think heavy and thrash are better, simpler adjectives. If you listen to a lot of metal, you'll love us. Some songs we write we need to strip down and pull riffs out because we overdo it. We take one solid, heavy or grinding riff after another and throw them into songs. By the end, we say "shit, let's save some of those breakdowns for other projects."
(Ryan) hehehe…welp, there is only one way to find out. do you really want to see how deep the rabbit hole goes? after all…who knows? it may just be a silly can of snakes…boo
(Justin) I'd like to think so. I am a very outgoing and sociable person, with a bit of a dark and introverted side (if that akes sense haha), which seems rather condusive to our sound. We want to be loud, heavy, in your face, but we'd like you to put your face in our way first   ; )
Stoli: Any plans to play some live shows in San Francisco this summer and where & when?
(Will) So we are getting our new drummer (Ryan) to catch up to speed, and our first show with this new addition in the band will be a showcasing at the California Music Industry Summit 2011 in Oakland, CA.   It looks like the LA Music Awards will be nominating us as the "Metal Band of the Year."   Though since we're broke as most underground musicians/bands, we don't know if we can participate for that award, hahaha!   We have also teamed up with Afton San Jose to expand our territories to play shows in the South Bay Area as well, so you can surely expect many more shows during the summer!
(Kavon) Fuck yeah. As you know, we got a new drummer. When working with a new musician, it takes time to get them up to speed and gig ready. We have a show booked in late June for the public, and you'll be seeing us (hopefully opening for some big acts) playing again consistantly after that.
(Justin) We are playing a show in Oakland on June 10th at the California Music Industry Summit, and potentially another in South Bay not to far after. We are definitely looking to get more gigs, but realize that our priority currently lies in getting the band back to where it needs to be before we will start looking into more shows…. Stay tuned though, because you will be seeing Ominos around very soon
(Sultan) I love SATAN, worship him hehe. But i am a cool laid back dude!!!
Stoli: What is next for Ominos & where you at online?
(Will) We are currently planning to record our 2nd EP (or maybe our first album) with everybody in the band with all of our new songs.   We are also in the middle of finalizing our official website http://www.ominos.co/ and about to post our first round of band t-shirts and tank tops with our new logo!   But for now, the best place to keep up with new songs and/or other news would either be http://www.reverbnation.com/ominos or our facebook page http://www.facebook.com/pages/Ominos/136253446435084
(Justin) Gigs, gigs and more gigs. Definitely thinking about a first album, but we are a bit off from that goal. We are getting the band all caught up and ready to play some shows again, but we are also looking into rerecording our demo, so it is all accurate and up to date with current members and the music they incorporate.
Online is also a high priority. We are building our presence online currently, and still have lots of work to do, but we can only promote so much without a accurate and updated demo. Anything else, you will have to ask Will, who has been handling our online business.