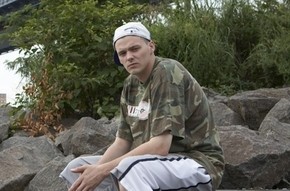 A week in Cuba to some can be an enjoyable vacation, an enlightening experience seeing how a country survives under a dictatorship,   while enjoying the culture and the whole experience of what such a place has to offer. For Bronx based producer, the trip was something much more than that, it was a musical journey where he procured various 33's and 78's that would in fact become the base for the debut album in his series Nights in…
With a positive collection of press growing from Nights in Cuba, we had to do a bit of digging ourselves with this interview, as we tried to get into the mind of the producer who has really pushed boundaries with this collection of tracks. Breaking down for us how he even got to Cuba with a US passport and what exactly did he find when he got there to inspire such a unique project.
Can you give the readers of Skope a bit of background about you please?
I am a music producer from The Bronx, NY. I started doing beats in 1999.   Most of my interest is in Hip Hop and various electronic styles but I'm into everything. Some artists I have produced songs for include Kool G Rap, Rhymefest, Sadat X, C-Rayz Walz and Nature. I'm also in an electro-pop band called Like Diamonds. I recently put out an album called Nights In Cuba which is based on records I brought back from a trip to Cuba.
Very few Americans get the opportunity to head over to Cuba, let alone go diggin' in the crates over there, how did that trip come about?
A friend of mine, percussionist Brenden Tacon was chilling in Cayman and through the grapevine figured out how simple it is to go from there. He called and told me this and we were in Cuba a few days later- no plans, no reservations…pretty much just catapulted ourselves to Havana and winged it from there.
Was it something that you had been looking to do or was it just one of those spontaneous moments?
I wanted to visit Cuba for some time but once I got that phone call, everything just fell into place, nothing was planned. I actually got severely ill the day before I left NY and almost scratched going altogether. The trip to Cuba could have easily not gone down but it was an opportunity that was not going to present itself again.
The whole experience of Cuba, the island, the music and the vibe, can you break down what you got from it musically?
Playing   music is a part of peoples everyday lives in Cuba, it's more of a social thing than an industry. I think that's part of why Cuban music has always been so vibrant.   For example, throughout the streets it is common at anytime of day or night to hear or see a band playing traditional songs for everyone to enjoy. Families dance and chant to Rumba rhythms while sharing Rum juice boxes for a typical night's entertainment. Music and dance is infused in Cuban blood, children as young as 7 are banging away on Congas with such intensity you would think they were summoning the gods.
So you are there, diggin', what gems did you come across as there has to have been some crazy stuff right?
I did dig up a few nice imports, some Beatles, some MJ, and of course lots of great Cuban records. Some of my favorites were from Los Reyes 73, Merceditas Valdes and Pablo Milanes. I also got some political addresses from Che and Fidel on wax. There were a few artists I was searching for out there but most of the records I got were by those I had never heard of before. My boy Carlos Miguel hit me off with a bunch of his family's records which included a Cuban printed   7″ of Bob Marley's Satisfy My Soul/Sun Is Shining. There's probably not many of those left floating around!
Also was the concept for the album already in your head leaving or was it while you were there you came up with the idea for Nights in Cuba?
Being a record collector I naturally wanted to go digging down there but the concept of doing an album like Nights In Cuba gradually manifested itself during the trip and over the following month while going through all the records. I never expect the outcome to be what it was. One idea just led to the next.
All these tracks on the album are based around the records you found when you were there, how long did it take to put the project together?
I was in Cuba in January 2010 and Nights In Cuba was available in December 2010, so a little under a year. The project is based on samples but leans on the live instrumentation added to the songs. The   beat making process took about a month, running the records through the MPC, chopping the samples, sequencing the drums, arranging the general layout of the tracks. After that it was the live stuff. My boy Brenden the percussion player introduced me to the bassie John Feliciano who introduced me to the flute and sax player Duncan Hardy. At the time they were all studying under the legendary Arturo O'Farrill so it was great having people involved who were familiar with Cuban styles- they were heavy contributors to the majority of the songs and all spent lots of hours working in the studio. The track "Que Lastima" for instance, those thick strings in the third section, that's all John playing his upright with a bow. That third section wasn't planned at all. We were recording for the first section over the Guaguanco sample.   I think at one point we accidentally solo'd all of his takes on top of each other and it had this chilling dramatic effect to it so we chopped, re-arranged and built on his lines and it evolved into this beautiful new area of the song. Then of course Duncan came through with the ill sax line. It was all an experiment, ultimately the whole album was. New elements kept being introduced to the tracks. I realized one day I was going to need some live horns so I called on a past collaborator Ryan Gardner (who currently lives in Arkansas but just happened to be in New York the day I called him) and we knocked out all of the trumpet additions to 12 songs in one afternoon. As the project was coming to a close, my friend, producer Kevin Casey introduced me to pianist Christopher Burke who offered to play on some tracks.   I met up with him in this community center in Pleasantville, NY that had a grand piano in this big room with a great built in reverb. He recorded the piano line for "Once Upon A Time In Cuba" and 4 other songs in less than an hour, having never heard any of the tracks before. I think every single track except "One More Time" has live elements on it. A couple songs are sample-free like the intro and Perseverancia, which is Brenden and I playing a percussion piece he wrote.
What was your initial goal with Nights in Cuba?
To capture an experience and to make an album that lots of different people would enjoy.  
Do you feel there is a right way to define Nights In Cuba as there are so many genres fused throughout?
I like to call it Afro-Cuban Electrip-Hop. There is certainly some interpretive freedom but at the end of the day, it's either in your iPod or it's not.
My favorites, personally are, the Chess joint with the Lauryn Hill sample and also the Que Lastima track, do you yourself have favorites? If so what are they and why are they your faves?
My   favorites are Once Upon A Time In Cuba, Centro, Que Lastima and January Nights because they alone do a good job of describing my experience in Cuba. Chess is a cool joint too and that one is all about this game of chess I played against this dude named Manolo on the street in Havana. I noticed this group playing chess in the same spot every day so the last night I was there I walked over to them and asked if anyone was down to play me. They all said no. I couldn't tell if there was some kind of lack of respect or something else I wasn't getting. I stuck around for a few minutes and literally asked every single person there if they were down to play. Eventually the last guy was like, "bien." I play a lot of chess but I don't sit on the stoop all day every day playing like he evidently does. I sat there for an hour battling this guy but I wasn't at the top of my game. He was playing with a lot more confidence, after all, this was his block and on top of that, every time one of us moved a piece there was mad drama amongst the rest of them- loud opinions, all in Spanish of course which I am only half-fluent in at best. This kept messing with my nerves which I suspect might have been intentional on their part. It was an intense match and I can't front, he eventually beat me but I gained their respect with persistence and game. I had to go to The Fugees for the sample. Shouts to Scram Jones who did all the scratches on the album.
Are you happy with the response to the album?
So far yes, very. Unfortunately it is difficult for an independent artist to cut through the massive amount of cheap music that most major and indie media are quick to cover for a buck. Some publications that started off as street culture mags filled with independent music and ill art are now full of garbage. It's hard to differentiate advertisements from editorials these days.
Was sampling something you were proficient in before embarking on Nights in Cuba?
Yes I have spent a great deal of time on the MPC. I have a decent collection of records and in my free time I'm usually going through them.
Did you face any hurdles in creating this album?
Not so much any hurdles, just hard work, time and effort.
 
What did you learn from this whole experience, spending time in Cuba etc?  
At first I wasn't sure how Cuban people would react to me being there but it was nothing but love.   Music turned out to be the tying bind between me and the friends I made down there. If you want to travel to Cuba you should.
A lot of time and effort went into this project on so many levels, what has been the most fulfilling moment to date when it comes to how it has been reviewed etc?
I was happy to find out that the University of Miami radio station WVUM 90.5 played the whole album start to finish one night. I like to think that there were at least a handful of native Cubans tuning in that night.   Aside from that, I'm glad that it's being well received by the World and especially the Latin community.
Can we expect other projects from you in this vein?
Nights in Cuba is the first in a series of projects using the same formula drawing records and influences from different countries.   Right now I am working with some 45s I brought back from Casablanca a few months ago so a Nights In Morocco is a possibility. I'm planning this Nights In D.R. project with Kevin Casey & Hector Mendoza jr. from EtMusiquePourTous.com. I was just on Priceline looking at flights to Colombia so I don't know what will be next but it will be something juicy. You can also check out my brand new EP Bluntitled, available now on Elevated Press Records. Shout out to everyone at Skope.
By: Lara Croft – laracroftcratedigger@gmail.com