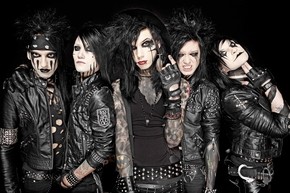 Summer 2011 just got a little hotter as the Los Angeles' newest rock sensations, the Black Veil Brides, continue their musical takeover with their major label debut, Set The World On Fire.  
The band's sophomore album is slated for release via Lava Music/Universal Republic Records on June 14 in the US.   Set The World On Fire is the follow-up to their chart-topping debut album released in 2010.   We Stitch These Wounds came in at #36 on the Billboard Top 200 and #1 on the Billboard Independent chart.
"Everything is bigger — more songs, more vocals, more melodies. And it all came naturally; it's not an attempt to try to outdo our first record, but we wanted to show how we had naturally grown as a band and as songwriters.   This is my favorite record I've ever made — and most importantly, the best album anybody's ever made" proclaims front man and founder Andy Biersack.