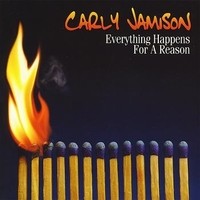 It's a good thing that the semi-reclusive Carly Jamison took the urging of producer Tres Sasser, and brought her internet-only songs to disc form. The first thing that grabs you is the vocal delivery. Jamison's deep, sultry vocals are the likes of Melissa Etheridge meets Patti Smith. The next thing that grabs you is the emotive, unapologetic lyrical matter. But the highlight moments of the album don't stop there… with the cavalcade of backing artists the musicality of the tracks is of equal merit. Part rock and country-kissed just enough, the album is a 10-track collection of "something for everyone."
The album opens to "Bring It On", complete with catchy, country-fried guitar work supplied by Dan Baird (The Georgia Satellites) that matches well with the in-your-face lyrics piped through Jamison's unique, breathy vocal tone. All in all, a nice representative taste of the album fare. "Doubt" features more of Baird's riff work as Jamison channels Chrissie Hynde on the vocals while painting a picture of a woman scorned. The acoustic ballad "Self-Consumed" features Jamison crooning more lamentable lyrics, country blues style with intermittent guitar fills and slight percussion. "This Big Old Bottle" is a honky stomp country rocker that will surely blow the dust off the boots. Again, defeated lyrics adorn the country musicality in what can only be labeled an honest country/rock mash-up.
Jamison truly put her best foot forward and came out of the gates with a very good first outing. The "shoot from the hip" lyrical matter, unique vocal tonality and effortless genre borrowing of the album make this a more than respectable debut. This is album-making as it should be.    
by Chris West – cwest@Skopemagazine.com
[Rating: 3.5/5]