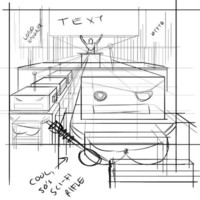 I have heard the phrase from most artists I have worked with/on: "Let's put this up on the wall and take a look at it." In the case of Val Broeksmit, the creed is something more like: "Let's just run through the wall." Under the guise of Bikini Robot Army, Val has pushed the limits of the DIY style of making music and his new album Old Soldiers is testament to that fact. The album is an amalgam of risky elements, styles and genres but Val proves not only that he has vast musical base but also a keen ear for what works and what works well. So there is actually no "risk" involved. It also helps that Val may just be the Bobby Fisher of Pro Tools.
The album's first must listen is "The Cocaine Lady." Opening lyrics are delivered a la Elvis' "A Little Less Conversation" with a Tropicalia percussion beat and multiple backing horns. It's a dancey, groovy toe tapper that boasts Keith Richard's fingerprint on it (a chance collaboration between Val and Keith on a tour bus after a New York show). To further exemplify the "risky" mash-up ethos of the album, one listen to "Fragile Things" reveals Val's equal love of 60s classic rock and 70s Motown funk. Follow me here… start with the Allman Brothers' "Dreams I'll Never See" only pipe that in equal parts through the Molly Hatchet and Nite Liters versions with original lyrics riding over top. It's the soaring guitar of Hatchet with the funk horn section of the Liters with Val's raspy vocal delivery. Put plainly, there is nothing fragile about "Fragile Things" and proves a mash-up beyond the likes of anything Girl Talk has put together. Finally bearing mention is "Homeplay" with 80s-style guitar work the likes of The Cars. It's another throwback rocker with garagey guitar fuzz and backing keys that wax and wane between new wave synth and classic Hammond B3 sounds. Even the vocal delivery is a bit angsty at times giving a clear nod to punk. Again, the match is seamless and everything "fits" regardless of how diametrically opposed all the elements may seem on the surface.
This is just plain clever and good. The ability to borrow from multitudes of genres isn't groundbreaking on its own merit, but Val's impeccable ear does so without sounding contrived. Everything, whether by accident or not, (I am going with "not") is meticulous, weighed and measured to achieve the desired effect or sound. Also noteworthy is this was done via emailed samples, snippets of songs and all produced on a laptop. There were no studio effects or post-production technology to cover up this or mask that; this is an achieved polish one wouldn't think available to a laptop warrior. And with a resume of contributing "special guests" (see: Keith Richards, Moby and David Bowie) look for more musical collabs that you didn't even know were possible.  
by Chris West – cwest@skopemagazine.com
[Rating: 4/5]