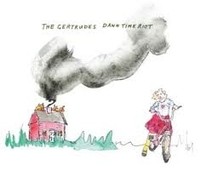 What makes Dawn Time Riot such a miraculous listen is how, with all its unmitigated energy, the record still manages to keep up its timely and highly entertaining pace throughout the record. Featuring eight players and over 100 guest musicians from the Gertrudes native Kingston; there is the worry that The Gertrudes could turn into a musical train wreck by trying to do too much without any focus. Instead, the band's rollicking mix of bluegrass, party-ready rock and general musical buoyancy create a far-reaching sonic language that seemingly manages to accomplish its one goal: bring a smile to your face.
"Slot Machines" gives weight to the satisfaction of a life lived honestly, complete with a rousing sing-a-long. At six and a half minutes, "Sailor" punches at indecision with a warbly yet still incredibly effective call to arms. And the album is not without some straight-up feel good tunes, including "Ronnie Hawkins" (Featuring yet another sing-a-long) and the giddy thrash of "Catfish John," the album's closer.
Gather your friends around the campfire (Or the stereo, if the rain is teaming down) and give Dawn Time Riot a spin. Not only will it bring you guys together, it'll make you want to do it all again the next day.
Joshua Kloke – joshuakloke@hotmail.com
[Rating: 3.5/5]