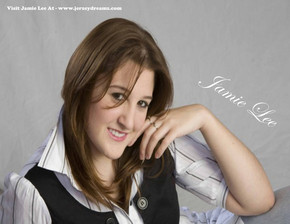 At just 20 years old, singer & performer Jamie Lee Gaita has already tackled so much.   Born and raised in West Paterson, NJ, her musical background goes back seven years.   The amazing part is that nobody in her family has any real music experience, but she has incredible support from her family.   For instance, her parents Joe & Louise Gaita are Jamie's biggest fans.   Besides being mom and dad, they also play the roles of manager and booking agent for Jamie Lee.   Sly & The Family Stone sang that it's a "Family Affair" back in '71 and Jamie Lee & company are living proof of this in 2011.
It all started at 13 years young when Jamie begged her parents for singing lessons.   Ask and you shall receive because little Jamie Lee got just what she wanted for her 13th birthday.   This is when she was first introduced to 7th grade teacher/vocal instructor Georgiana Gerardi.   Jamie has a tremendous amount of respect for Gerardi as she had this to say: "I owe a lot to Mrs. Gerardi for teaching me all I know about music".   So…the gift of music was now presented to Gaita and the rest is history!   While in junior high Jamie would join the choir and perform many solos and she even got to sing at her 8th grade graduation.   Next came high school where the music game did not stop.   Jamie Lee attended Passaic Valley High School from 2005-2009 and in the short time there accomplished a lot.   This aspiring artist continued on with choir and took singing lessons from Carmen Jon who supplied some helpful tools to Jamie during her high school years.   Jamie was even involved with variety shows, two school musicals and started playing actual gigs around town.   It's worth noting that Gaita won National High School Teen Idol competition where she performed "Power of Love" by Celine Dion.   This is the same song that makes her Uncle Frankie cry every time she sings this powerhouse number, so she must be good!   Her high school days are behind her as she now attends Kean University in Union, NJ and is pursuing a degree in Music Education.   Her current voice teacher at Kean, Kathy Harris, has been a major influence on Jamie.   "She has really helped me refine my technique by introducing me to some very tough classical pieces. While pop/rock is still my passion the classical training has really helped expand my range and refine my breath control."
Jamie Gaita "Big Mistake Girl":
Jamie Gaita has sang countless covers over the years on some big-time artists such as: Aretha Franklin, Celine Dion, Alicia Keys, Journey, Melissa Etheridge, Beyonce, Carrie Underwood, Kelly Clarkson, Leann Rimes, Taylor Swift, Demi Lovato, Norah Jones, Etta James, Queen Latifah, P!NK, Dolly Parton, Patsy Cline, Big and Rich, Lonestar, and Josh Groban.   What a diverse list of musicians but what does it all mean to Ms. Gaita?   "This is why I sing, because one song, one 3 minute song, can evoke so much emotion. Each song I sing is special in some way to me; if it weren't I wouldn't sing it."   Jamie Lee considers herself to be a pop/rock artist, but she's also done country and Jazz/R&B.   Jamie Gaita is obviously a young & eclectic artist and the most important thing-she just loves to sing!
Besides music, Jamie is also a HUGE sports fan.   She competitively played softball for almost 10 years and also played basketball.   In addition to that, Gaita also did cheerleading, volleyball and even football.   Athleticism & music savvy go hand in hand for Jamie and there's nothing wrong with a healthy singer.   Jamie also proves to have a BIG heart when it comes to helping out people.   She is part of a group called The Passaic County Repertoire Company, which is a non-profit company that goes to nursing/rehabilitation centers to sing for all the patients there.   Every month Jamie sings at Kessler Institute for Rehabilitation, which is such a rewarding experience for her.   Jamie Lee has an extreme soft spot for children with diseases where one of her favorite performances happened at a children's hospital.   "For such small children to have to go through so much everyone should really donate to a cause that will make them more comfortable or help find cures for them.   I wish I did more performances like that one and after saying that I'm going to look into doing something like that sometime in the near future."
So we now know that Jamie Lee Gaita is a dedicated singer, sports enthusiast and one caring/giving person so what else is there?   Well…glad you asked because Jamie has won 1st   place in many competitions thus far such as: Talent America, NexStar, Star Bound and The Voice of Passaic County just to name a few.   Gaita has also played many venues to this point like: Mina's On The Mountain, Cortina's Collucci's, Tea Fields, The Italian Circle and the famous "Desperate Housewives of NJ" restaurant The Brown Stone.   She sings for JC Promotions, which includes street fairs all over Jersey and Jamie was recently invited to sing for the Bellville Tree Lighting by JC Promotions.   To this point,   her most memorable performances come by way of two legendary spots The Cotton Club and The Apollo where she sang Etta James' classic hit "At Last".   Jamie Lee Gaita was absolutely blown away at the response she received at both venues; two nights to remember forever.   "The experience I had at the Apollo is not one I think can ever be replicated.   One of the people after the show gave me a compliment I will never forget, the greatest compliment I have ever received. He said, 'You really made history come alive, it was like I was back when the place was first built and I was watching one of the greats.' I will never forget those words."  
www.youtube.com/jamiegaita
www.cdbaby.com/cd/leejamie
www.facebook.com/pages/Jamie-Lee-Gaita/130074330376961
www.jerzeydreamz.com/Jamie.htm
By Jimmy Rae (jrae@skopemag.com)