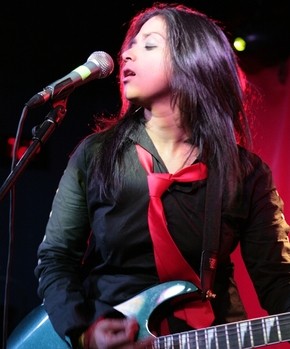 The constant advent of online communication technology never ceases to amaze me. So when the assignment came for a chat with UK singer/songwriter Anita Maj, I blew the dust off my Skype account. And while this would be my first live online interview, I figured with her dual web sites, multiple social networking accounts and a new YouTube video under her belt; she was probably the tech-savvy type.
After all, when you're garnering the amount of exposure she is currently enjoying, you have to be.
Though based out of London, with its bustling music scene, the firebrand rocker is blowing up stateside due largely in part to multiple appearances here and the US release of her four-track EP, The Masquerade. Presently seeing a regular rotation of spins on some of the country's more prominent radio stations, the fledgling artist is ready to spread her wings with the release of her debut album, Truth or Dare (Lil Minx Records).
"I've always wanted my own album," she said. "When I hear a song by an artist, I'm much more likely to buy the [whole] album than just the single. I feel it's much more representative of the artist. So I'm very excited about bringing out one of my own."
[youtube chwxJXpfOE8 nolink]
While fans will have to wait out the rest of the album-making process, here's what we do know: it will be a full-length LP ("So far it is a collection of 12 songs."), some of the tracks from her EP will make the debut ("At the moment probably about three of them.") and that her penchant for writing keeps the final product in a state of flux ("But the other thing is I am writing all the time so there is the potential for any new song as well.") Finally, fans may also be treated to a guest appearance by Kanye West collaborator, Malik Yusef, whom she worked with on a track that is set for release this year as well.
Maj did concede that the album content won't be in the fluff category and admitted paying careful attention to all the facets of making the album. "It is going to be mainly about relationships of all types and that sort of thing."
"The lyrics part is one part that is really important to me. It's something I have always done, is write lyrics so they have to make sense and tell a good story," Maj continued. "Musically, I love the rock part and I love the melodic songwriting part of it. I love the energy of rock and I love the acoustic part of melody so I wanted to fuse the two and bring them both into it."
Look for the album this summer as it will be released both in the US and the UK simultaneously. Also look for the artist herself, as Maj will be returning to the US for South by Southwest in March before a residency jaunt on L.A.'s Sunset Strip (she is already a Viper Room veteran) and appearances on Yusef's upcoming tour. And in good keeping with her mantra of "getting her music out to as many people as possible" this writer predicts sets full of early album previews. You should too.
By: Chris West – cwest@skopemagazine.com