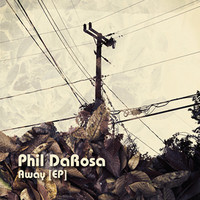 Wait till you get a load of Phil DaRosa and his new EP 'Away'.   Even though there are just four songs on this recording you get a very good feel for DaRosa and what type of artist he is.   What you find out is that Phil does not have any tricks under his sleeve; he just plays MUSIC.   It's all about the music and it's all about remaining true to oneself; Phil DaRosa nails it on all accounts.  
I have to say that I've been reviewing a lot of Indie acts lately that play the role of the one-man band.   Add DaRosa to that list as well and you know I'm starting to wonder if this will be a new wave.   Band or no band, Phil gets it done.   He wrote, produced, performed and recorded all four tracks and quite nicely I might add.   This is actually DaRosa's second solo release while he also has a live album out titled 'Live @ The Fire Philadelphia, PA'.  
Don't ask me to describe the style on 'Away' because I won't do it!   All I'll say is that it's just good music with many influences from rock, pop, folk, roots and everything else in between.   DaRosa proves that he is also a man of many instruments playing lead vocals, guitars "and whatever else is around".  
On the title track, right away I'm hearing a catchy & fresh sound where the vocal & guitar parts were all on the same page.   I also picked up on some solid percussive beats plus some nice backup vocals from singer Emily Valentine.   I was really diggin' the musical approach here on "Away" as Phil DaRosa created something special that can be enjoyed by the masses.   On the song "Beneath Your Feet", you just might catch yourself clappin' your hands and snappin' your fingers to this tune.   I'd also like to add that the connection between the vocals and the guitar gelled together perfectly!   DaRosa's voice and his guitar playing skills definitely stood out to me as being major factors toward the success of this entire EP.  
There was so much goin' on here from a music standpoint and I was feelin' every second of it!   Phil DaRosa seems to be a serious artist with so much to offer, so watch out Justin Bieber & Lady GaGa–here comes Phil!   If you haven't heard of Phil DaRosa then get ready because you will very soon.   For now, you owe it to yourself to check out this latest EP 'Away' because you'll experience quality & substance at its finest.   And I was going to give this 5 Skopes, but I rarely give perfect scores to EPs just because they don't usually seem all the way complete to me.   So…hit me with a full-fledged album next time Phil and then we'll see!  
By Jimmy Rae (jrae@skopemag.com)
[Rating: 4.5/5]