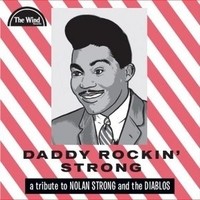 Lou Reed was definitely onto something when he proclaimed "If I could really sing, I'd be Nolan Strong."
While Daddy Rockin' Strong doesn't feature any of Strong's original doo-wop and Detroit-based R&B, what it does contain is a slew of talented artists doing justice to Strong's classics. Strong has always remained something of an enigma when it comes to classic R&B discussions. Never fully gaining the respect he's deserved, Strong's influence is still immensely far reaching.
Many of the artists indebted to Strong pay tribute on Daddy Rockin' Strong, including Cub Koda, who delivers a soulful and inspired take on "You're The Only Girl, Delores" and Outrageous Cherry, who up the volume and inject a certain swagger into "(Yeah Baby) It's Because Of You."
For those who believe Detroit music began with the rise of Motown, a spin of Daddy Rockin' Strong ought to serve as required listening. The lineage of garage rock can also be traced back to Detroit without any difficulty, so it should come as no surprise that some current garage heavyweights get in on the action.
Reigning Sound forgo their dirty punk roots to treat "Mind Over Matter" with the kind of classic reverence it deserves. They add subtle swampy touches, but like most of the artists on the album, interpretation isn't as important as bringing Strong's bluesy and heartfelt rhythms to a crowd which may be unfamiliar. A-Bones sing the shit out of a shuffling "Real True Love" and Demon's Claws ensure the late night stomp of "Try Me One More Time" will keep the neighbours up long into the night.
It's unlikely that fans of Strong will see any re-issues of his work anytime soon, so Daddy Rockin' Strong will have to satiate fans needs. Lucky for those fans, the record does just that.
Joshua Kloke – joshuakloke@hotmail.com
[Rating: 4/5]