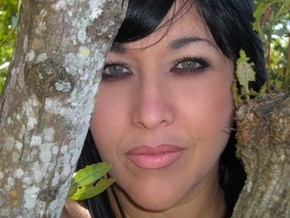 After teaching so many others how to use their voices, Jackie has embarked on her own vocal career singing the country music she loves.
She started early by studying music in Miami.   She was quick to show her ability to teach others and became a vocal coach.   Her talent got the attention of music producers, promoters, and songwriters. Soon Arredondo began to prepare artists for very important people in the Hispanic music industry.
 
She took on a aggressive teaching technique which she named   "The Jackie Singing Arredondo Singing method". This was noticed by record executives at Sony Music Latin who made her their vocal instructor.   This opportunity got her the first gig in a Hispanic reality television show where she would appear as a vocal instructor for NBC.   Emilio Estefan also took interest in her and she instructed his reality show.   Sean "Puff Daddy" Combs heard about her and she got to train Puff Daddy's first Latin artist for his Hispanic label "Bad Boy Latino".   Univision   also wanted Jackie to train singing competitions for their highest rating variety show. They gave her the task to co-produce their segments by giving it a reality show image. Then, record industry mogul, Tommy Mottola hired Jackie, who would train for him one of the most famous divas in the Hispanic music and television industry, Thalia.
[youtube 9C5GHOP_CmQ nolink]
Now Jackie is pursuing her life long dream, by becoming the recording artist she always dreamed she'd be in Country Music, a genre of music that has inspired and captivated her since early childhood. On her last CD released in May, she collaborated with Jason Campbell, songwriter known for several top 20 hits and demo songs for artists like Rascal Flatts and Sammy Kershaw, among others.  
 
Where were you born?
 
JA: I was born in Cuba but came to the states when i was 3 years old.
 
Tell me about growing up in a musical/theatrical family and how that influenced you?
 
JA: It was a huge influence for the direction I chose to go.   I was raised among great actors and performers and being around them and primarily my parents I was able to build an enormous sense of discipline which we all need in any career we choose in Life .   I was able to feel the passion of performing since very young and that made me know that I was born to be on a stage and that the applause of the audience was my best reward.
 
What country artists influenced you and which current singers do you like?
 
JA: Dolly Parton, Dan Fogelberg, Kenny Rogers and of the current singers I love Rascal Flatts.   My dream is to   be able to collaborate with them hopefully in a very near future.   I also like Carrie Underwood, Keith Urban and Martina McBride.
 
Have you been to Nashville?
 
JA: Yes many times years ago, First to admire the City and the Capital of Country Music (dreaming of one day being a part of that Industry). Recently, to several events for the record industry and to record part of my latest EPA, it was a long life dream to finally record in Nashville.
 
Are you still teaching vocals?
 
JA: Yes and I think I always will, giving to others part of what God gave me will always be a part of me, even if in the future its only on a minimal basis since my recording career demands more time.I have had a vocal institute for a long time which caters exclusively to the labels.   I   do still train but only for upcoming artist releases of mayor labels or well known artists for the Latin recording industry.
 
Do you have any new projects in the works?
 
JA: So many that I don't know where to start. First to help my recording company with the promotion of our latest EPA, Shooting the video for the next single as well.     I have been approach by several people to open a full music academy with my name and give scholarships for underprivileged kids (something that i would love to do), But, going on the road is my main focus for 2011 since I want to interact with all the country fans out there by performing and give them my best show every time.
 
What would like to be doing 5 years from now?
 
JA: Making   better music, collaborating with the great artists in country music, touring the world…non stop!   I never want to stop doing music, its my passion, its my life.
 
www.jackiesite.net
 
By: Diana Olson – diolson05@yahoo.com