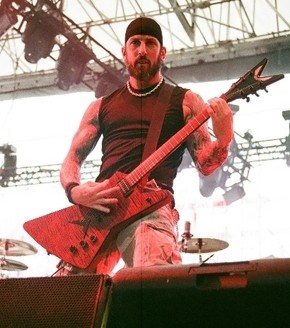 The Carnival Of Madness tour once again brought 7D in front of the metal masses, many who had the opportunity to experience one of the hardest working bands in the biz, get down to business.  
RE: You started out as a drummer like Clint, Phil Collins, Dave Grohl, J. Mascis, and most importantly me. How did you make the switch from drums to guitar?  
JC: Our band Piece Dogs had released one record, and weren't going anywhere.   I picked up a guitar and wrote Black.   They weren't interested in the song, and we didn't see eye to eye on a lot of other things.   I knew Morgan (Rose) as his band Snake Nation had opened for us, and he also lived in the same apartment building.   We used to talk, and you know how one beer leads to another.   We went into the studio, and 15-16 hours later we had a set list, no lyrics, no vocals!   Morgan was already the drummer, so I started playing guitar.   At first, I sang, and was God awful, but had the feeling.   Since I always played guitar sitting down at home, it was weird at the first show, having to stand up and play.   Vinnie (bassist Vinnie Hornsby) handed me a strap, put it around my neck, and jerked down on it!  
RE: What was your personal, worst gig experience?  
JC: I don't even have to think about that one.   It was a gig in San Antonio, Texas! It was a big show put on by a radio station, and Korn was headlining.   They were working their own gear. When we went on, we had a local sound guy that managed to patch everything through one channel, the monitors and everything else. The more we went through the set, the weirder and weirder it got! The lights were on, and we had no gear to hide behind. It was a total nightmare.   I just tried to follow Morgan.   Everything they did to try and fix it, just made it worse.   It was like a ball rolling downhill gaining speed.   What added to the confusion was everyone buzzing around the stage.  
RE: Wow! And I thought you were going to say the upstairs cigar bar in Nashville, where there was no stage and at least 50 times the occupancy with only one-way in and out!  
JC: That was the show we did acoustic.   It was neat, kind of like a little living room.   I didn't know it was that packed! The guy at the door checking passes disappeared for about 30 minutes, and everyone came in off of the street!  
RE: What was your first guitar?  
JC: I always had various cheap acoustics around. The first good electric guitar I got that actually stayed in tune was an Ibanez RG550.   It was blue with a black pickguard and a whammy, which was half the reason I bought it! It was $250 and beat, it needed some TLC! Then I got a Jackson Soloist, and moved on to Les Paul's and Explorers.  
RE: What was the first concert you went to?  
JC: There were so many, it's hard to remember. The one that I was the most impressed with was Van Halen.   Rush and Kiss were great live, and I love AC/DC, but Eddie Van Halen focused on technique and dedication to actually playing.   Van Halen delivered technically, what Rush delivered intellectually. Eddie just knocked me on my ass!   When Eddie appeared, nobody knew what that was.   One moment he would be doing something, and the next moment he'd be doing something else!  
RE: Are you a collector?  
JC: Sort of, but not valuable stuff.   I just collect things that sound good and are useful.   It's all about having players that also translate well in the studio.   I have a yellowish, off white/cream Explorer, that when you plug it in, it reminds you of why you kept it!   I have a 1978 Custom Shop Les Paul that's road worn.   I have a couple of import Dean's that really crush.   In videos you use the nicer looking guitars, and in the studio you use the cheap ones that work!   Jack White is a perfect example of this.  
RE: What amps are you using live?  
JC: I'm using EVH 5150's.   On Hope And Sorrow, I used an EVH, and an original 5150, and went full circle back to EVH.   With the EVH, you feel connected when you change settings. They kind of smooth the tone out.   If the volume is up, the EQ is good on all positions, clean, mid, and all hell breaks loose. Live I use three channels, start with full gain, and then I back off. The cabs have the EVH Greenback speakers, which are technically 20-watt speakers.  
RE: What effects are you using?  
JC: I use an Ernie Ball wah, a Voodoo Lab GCX controller, and in the rack I have a TC delay and a gate compressor.   I also use a Phase 90, a Fulltone Ultimate Octave, and a squeeze compressor. I spend time at the house just playing without effects. Effects are really just an afterthought that adds color.    
RE: Who is your all time guitar hero?  
JC: Hands down, Dimebag. He just had that fire!   There are so many great guitarists out there, but he was just so confident that he'd never miss a note, even when he would stage dive. He told me there were times where he'd miss a note and screw it up once, but he'd blow it again three more times on purpose and make it sound like it fit, to "Shake the shit out of it!" He let it all hang out, and maintained control, even when he was drunk. With me, after two beers I'd have to sit down! A lot of kids try to be Dime, but without practicing 10 hours a day. For me, it was looking at Eddie and Steve Vai. Guitar World had this thing around a year ago about Steve Vai's 10 Hour Guitar Workout. Steve Vai is like some alien that was brought to this planet to play guitar. For him, nothing is impossible! He said that Brian May was his favorite guitar player.   Think about that, you can hear it in him.  
RE: If you could invite anyone to play at your birthday party, who would it be?  
JC: I want to say Van Halen, but I'll pick Rush for two reasons.   First, the rest of Sevendust would get the chance to participate, and second, I've had the chance to meet Eddie and Wolfie, but I've never had the chance to meet Neil Peart, and I'm a big fan!  
RE: I've heard numerous people mention that they can hear traces of various metal and heavy rock groups in Sevendust's material, but the band still remains unique.  
JC: We all borrow from our heavy music roots. I asked Dime about that one time, about coming too close to other group's sounds, and he said, "I took everything I know from Tony Iommi!" It's not robbery, it's flattery, and we all borrow from our influences.   Sometimes my influences just come out in the music.  
RE: What advice do you have for young musicians?
JC: Young guys think all they need to do is play faster. You don't!  
RE: Walter Trout pointed out how people idolize Jimi Hendrix's playing, and the fact that he never shredded!  
JC: That's absolutely right.   Another thing is that they shouldn't focus on gear. A lot of players spend all kinds of money on guitars that become wall hangers. At the end of the day, you're playing music, one note at a time.   Don't fall into the speed and gear trap.   Slow down, and focus on making every note count. Learn to play music and not licks. I loaded my I-pod with classics, Aerosmith, Rocks, and Toys In The Attic, Master Of Puppets, Pantera, Zeppelin.   I've listened to them a million times, but each time I listen to them I get a fresh perspective!  
By RME