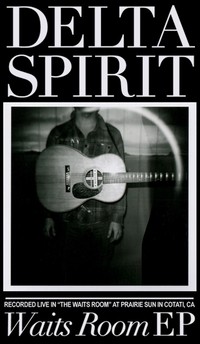 Whenever a band releases a live album, B-sides collection–hell, even an EP–the word "stopgap" is often thrown around.   By "stopgap", of course, I'm referring to the critical go-to insult used to describe a holdover release bridging together "proper" releases, often simply a cuter way of saying a band is suffering from writer's block.
On paper, The Waits Room meets all the standard criteria–it's a mainly live hodgepodge EP of unreleased material and stuff from their last full-length, History From Below (which was released in back in June).   In terms of quality, though, Waits Room is top-shelf, taking their trademark roots-drenched indie rock to new, exciting places, particularly on the Fleet Foxes-esque "The Flood", where fingerpicked acoustics and close-knit, spot-on vocal harmonies border on backwoods gospel.
For a (mainly) live collection, The Waits Room is impressively recorded, but there's also an intimate, bled-together urgency to the sound, which gives the collection a sense of cohesion.   More importantly, though, this is more than just a re-hash job; the two History From Below tracks are given drastic make-overs, and they might actually work better in this new context.   "Bushwick Blues" was a highlight from their last full-length, riding a big, fuzzy indie rock bassline and brisk tempo; here, it's slowed down and sexed up, allowing space for a shimmering organ, giving more prominence to well-placed lyrics like "My love is strong / And my heart is weak after all".
If this is "stopgap", I'm down for more procrastination.
By: Ryan Reed – rreed6128@hotmail.com
[Rating: 3.5/5]