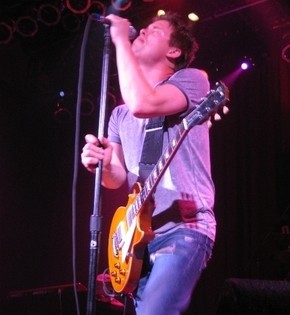 Jonny started playing guitar at the ripe old age of 12, played sax in junior high, and recorded his first album Smokin' at age 14.   Talk about putting in the proverbial 110% into his work!   His 2006 release Turn Around enabled him to earn his first Grammy for Best Gospel Album.  
He appeared on a Drew Carey Show episode, cutting the grass while Drew was auditioning guitar players for his lounge band The Horndogs.   He also did a cameo in the movie Blues Brothers 2000.   Jonny has done guest shots on various releases including offerings by Hanson, The Jonas Brothers, Eric Johnson, and most recently Lee Ritenour, and Cindy Lauper.   Just like a veteran major league pitcher needing to stay on top of his game, the Fargo, North Dakota native has managed to change up his delivery, sounds, style, and touring lineup to optimize his abilities.   Now, at 29 the consummate road warrior has put in 15 years of touring and has just knocked out his sixth album Live At The Ryman.   Always concerned about sound (especially in the cavernous HOB), Jonny's sound check is a virtual marathon that made me tired just watching!   Jonny was at the mercy of transportation to the gig, but we had a chance to sit down before it was his turn getting levels set.   I need to preface my encounters with Jonny in regards to everything you see on media platforms like E and TMZ about performers.   Jonny (in addition to being a great talent) is one of the most unassuming, humble, friendly, down to earth people you'll ever meet, just a regular great guy that just happens to be able to shred both the guitar and microphone simultaneously!   My first comment addresses live sound.  
RE: We first met early on when you were touring to support Lie To Me.   I've related this story to a lot of artists, especially the younger ones, concerning performing live.   After we shook hands, you took on a serious look, and you asked, "How did I sound out front?"   That was how concerned you were about the sound.  
JL: Yeah, that's one of the most important things in performing live.   You have to try and get the sound as good as possible.   JL- Have you heard this band yet?   They're great!   RE- No, I'm looking forward to it!  
RE: At the first Crossroads concert at the Cotton Bowl, you came on later when the crowd was pretty much worn out, and you really knocked everybody out.   Three stages, morning till night for three days, it was kind of a Woodstock type event.   How did you feel playing there?  
JL: The first one was definitely one of a kind.   I was just kind of in and out at that one.   This last one was more fun as I got to hang out and talk with everybody, and to play with Buddy Guy and Ronnie Wood.   It was such a great atmosphere especially with all of the fans in Chicago.     It's been such an honor to just be asked to play at these events.  
RE: what was your first guitar?  
JL: (Smiles) It was actually a pretty good one.   My dad got if for me on my 13th birthday.   It was a 62 Reissue Strat, white with the vintage green pickguard.  
RE: That was a great starter!   RE- What was the first song that really motivated you to play?  
JL: It was Plush by STP.   That was the first song I learned to play.  
RE: How about your first concert?  
JL: (Laughs) It was Confederate Railroad.   I was around nine or ten, and I don't remember much about it!  
RE: Everybody has one or 100, what was your worst gig?  
JL: Do you mean when all of the stars were perfectly aligned etc.?  
RE: Yeah.  
JL: (Laughs) Wow, there were so many, it's hard to pick one out.   Let me think about that one for a while!  
RE: If you could pick only one guitar player from any period in time to trade licks with onstage, who would it be?  
JL: Albert Collins!  
RE: How about one bass player?  
JL: Well, it would probably be a tie. First, the guy that is with me now, Jim Anton is great.   The other guy would be Sonny Thompson.   He played guitar on the new CD, and used to play bass with Prince.   He's an awesome bass player.  
RE: Next fantasy choice. You won a contest, and you can pick anyone living or dead to play at your birthday party, who would you pick?  
JL: Hmm.   James Taylor.   James Taylor and Stevie Wonder are my favorite performers!  
RE: Who is your favorite composer?  
JL: Do you mean classical?  
RE: Rock.  
JL:  (Gets a serious look while thinking) Freddy Mercury.   His lyrics were great, and he had mass appeal!  
RE: I agree.   How special was it recording live at The Ryman?  
JL: It was great.   Everytime we play there it's special.   It's hard NOT to get in a zone when you play there!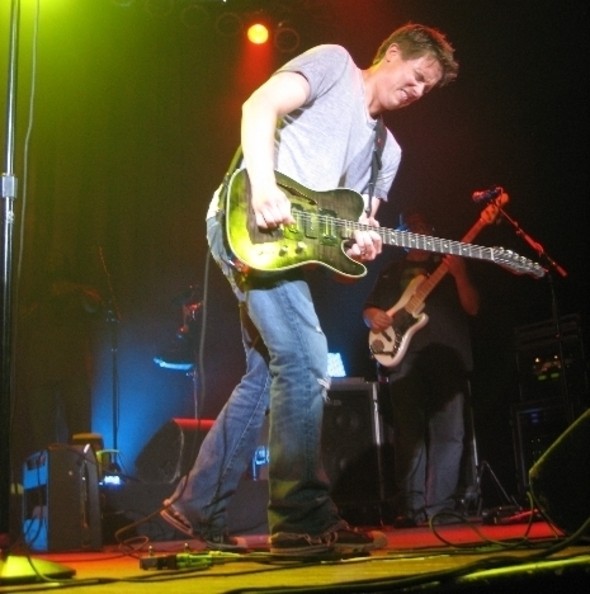 RE: What guitars and amps are you using live now?  
JL: Basically just two. I'm using the black Tele Thinline with two (Bill Lawrence) humbuckers and a Seymour Duncan P-90 in the middle, and a 58 Reissue Les Paul on four or five songs.   I'm using two new Fender Deluxe Reverbs that have been rewired to get that vintage sound.   Note: Live, he has the amps behind him turned sideways, with the speakers facing his left.  
RE: What effects?  
JL: I just use a basic setup.   I have a RT 66 distortion pedal, kind of like a Tube Screamer, a Vox Wah, and a Boss Auto Wah.  
RE: What's your opinion on the blues today?  
JL: It's all a call to the roots music.   Everything stems from there. The last pillars of the genre are the last ones, and they can't be replicated. The rest of us just stand on their shoulders and try and bring something to it. With the decades of music that has been recorded, it's special to be a part of this one!  
RE: You've done blues, blues/rock, and now gospel, and you've touched on a bit of jazz in your work.   Have you thought about working with an orchestra?   Brian Setzer is one guy that's done a good job with it.  
JL: There's an endless list of things I'd like to do, but absolutely, I'd like to work with an orchestra.   We used a large string section on Red Light, and it was just cool to see those guys!  
RE: I love many different kinds of music, and I've got to explore a few, make a few left turns!  
JL: (Laughs) I've played "Pseudo-jazz".   I know a couple of tricks!  
RE: What is your advice to the young guitar slingers out there?  
JL: Man, every form of entertainment is a rat race! There's no equation for who gets recognized and who doesn't. There's no sure fire prescription for success.   I'd say to keep your motives pure, and always be respectful. Do it because you love to do it, and give it your best shot. There are tons of guys out there, and the ones that make it are truly lucky!  
By R.M. Engelman – respectablecollectables@hotmail.com