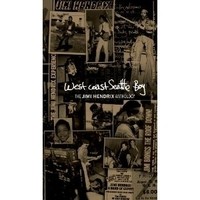 WCSB is the latest offering by the Hendrix Family is available in a 16 cut CD, an eight LP Limited Edition version, a one CD one DVD Deluxe Edition, and a Box Set Collectors Edition version featuring four CD's and a DVD.   The release features both unreleased and alternative versions of Jimi's songs.  
The press release features eight cuts, which include some neat stuff.   The Isley Bros. Testify features Jimi as a band member.   The Beatles Day Tripper is done uniquely in traditional Jimi style.   The Little Drummer Boy, Silent Night, and Auld Lang Syne medley was recorded live with The Band of Gypsy's December 19th 1969.   The alternative take of Love Or Confusion is a good track, which sounds pretty much like a different song.
No matter how much Hendrix stuff comes out, fans will always find something fresh or unique to explore.   The same could be said for The Beatles, Stones, Zeppelin, etc. This set is a must for Jimi collectors, and does have some neat stuff.   The other thing that has strange appeal, is listening to an artist on a recording that was crudely recorded, and sounds like a basement or garage band rehearsing.  
It's that time of year again.   Check this out along with other offerings on the website, and further descriptions on your favorite web shopping sites.  
By RME
[Rating: 3/5]