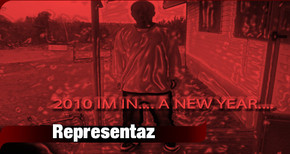 Another Friday is here and I am in a great mood. I feel like partying & just having a good time this weekend. My guests this week know how to do just that. Please meet Balla and Russtown Representaz. These four friends are reppin Ruston, LA. I caught wind of them after hearing the single "2010 I'm In." After giving the track a listen I heard such potential in this group that I had to dig deeper. Kick off the weekend with a hip hop group that is determined & able to get their shine in hip hop today!
Stoli: Where are we talking from today?
Balla: Well i'm just doing what i do trying to keep my focus.
Stoli: How did you get the nickname Lil Balla and what is your definition of "ballin?"
Balla: I'm not sure really i had a few nicknames coming up. Me and my friends used to freestyle alot growing up for fun.I wanted something that was defining something i wanted to achieve to represent me. Ballin to me is flashy jewelry, nice whips, and houses. But you can be ballin and watch all that fade away. Ballin for me is making the money and making the best of it so that it stretches out in the long run mostly by investing that money and making more money.
Stoli: At what age did you feel that you should pursue hip hop full time?
Balla: I would say about 16. Before that it was all just fun then i hooked up with my friends, and they told me about their cousins who was doing the music thing. So we did sum freestyles over a tape and let them hear it, they liked it so they let us record at their little in-house studio. After that i knew that was my dream, it just felt like me.
Stoli: How did you get with Prototype and Poobey-D and were you friends first?
Balla: Its crazy for we met on bad terms, but in the end we ended up as friends. The music thing came later we became friends young.
Stoli: Do you feel it is harder or easier getting signed to a label as a group or solo artist?
Balla: I feel its hard to get signed period. Especially coming from a place where no one has ever been signed to a major label. It's hard but it is achievable with hard work and determination. I am determined to redefine that part of the game.
Stoli: Do you feel like the Internet has made it harder or easier for an emcee to really get noticed by the hip hop masses?
Balla: It makes it easier. Without the internet i probably would not be doing this interview. It is a great way to help independent artists who aren't known but are trying to get their name out.
Stoli: If you go on various hip hop sites, there is alot of hate. Why do you think that is and is that good for hip hop?
Balla: I think no one wants to see someone doing better than them. That's understandable because we all want to be successful. I mean its a good thing because people will see that hate, and it makes them wonder why so much hate so it's exposure for you.
Stoli: TI got arrested again last Wednesday September 1st in Los Angeles. Do you think that getting in trouble with the law can benefit an emcee?
Balla: I mean i can only speak for myself when it comes to trouble. We all put ourselves in whatever situation that arouses. Exposure, exposure, exposure lol it's beneficial because people see that, and it keeps their attention on him so that they can follow his situation. I think it's only beneficial depending on how successful you are. If you are an unknown they your situation gets swept under the table, and it doesnt really help you to get in trouble.
Stoli: What is your process when picking beats and where do you find new producers?
Balla: I have to listen to the instrumental, and if i can't see myself writing to it or bobbing my head, i can't pick it. Right now im just networking online with people i know and people who have heard my music and want to work with me. For now i do all my own producing, but i am diversifying myself and that will be evident on the new CD.
Stoli: when you are not in the studio, what do you like to do on your free time?
Balla: Well i like to chill with my people. I love listening to other people's music, and freestyling, or singing the song. I go out to clubs or whatever i can squeeze on my agenda for that day.
Stoli: What is coming up for Russtown Representaz and Lil Balla and where are you at online?
Balla: Well for me I'm dropping my new CD 2010 I'm In… A New Year later this year. Shortly after i look for us as   to do a mixtape maybe early 2011. Online i'm on facebook as Balla Hotspitter. I'm on Reverbnation.com. You can find me on myspace or on my website http://russtownrepresentaz.com. I'm just trying to get the word out about my music. I don't plan on giving up anytime soon so be on the lookout for me.