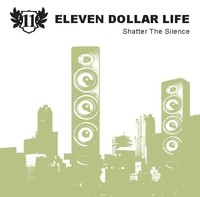 Are you ready to get nuts and join the party that is known as Eleven Dollar Life?   I hope so because these Chicago rockers are about to Shatter The Silence for good!   Eleven Dollar Life unleashes a fury of sound that will excite the hell out of people's senses everywhere!  
This group hails from the Windy City and they attempt to blow you away with their eclectic mix of songs.   The band is made up of: lead singer–Bryan Pray, Kyle Voivodas on drums, Chad Wynes on guitar, Marc Gee on keys and Eli Namay on bass.   There is such an incredibly fun intensity about this band that is hard to miss!   I was hooked from the get go and I'm sure new fans will pop up wanting to live the Eleven Dollar Lifestyle.  
What makes this band so special is that they don't restrict themselves to one or two styles.   You're hearing a fresh Indie band with elements of rock, alternative, jazz, blues, funk, reggae and so much more!   You can not put a label on this band, this music and this record because it would be almost impossible.   There were just a lot of fun sounds being put together here that worked and so the Chi-town musicians just ran with it.   Simply put, Eleven Dollar Life makes music that sounds good.   There is no secret to their madness; they just play the tunes that people would love to hear.
There are four tracks on this new album with three of the songs coming from their 2007 EP The Problem.   I have to say that I'm likin' what I'm hearin' on this disc with so much hitting me at once.   The amount of diversity between just four songs is just crazy when you really stop and think about it.   I can't imagine if I had heard say 10-15 songs by these guys what I would be getting then!   I would not be surprised at all if Eleven Dollar Life decided to tackle some country, southern rock or maybe even some R&B next time around.   Reason I say this is because I feel this group has the ability to turn any type of music into an instant, feel-good atmosphere.   I have to say that the record ended on a high note for me with Bryan Pray singing the hell out of a song called "Relief".   The melodies & harmonies were very good, the acoustic guitar was workin' its stuff and what you get in the end is an ear-friendly jam my friends.  
I really enjoyed listening to Shatter The Silence because the recording offered so much variety for the listener.   This is a band that I picture will never get bored with themselves or the music they make and in turn the fans will never get sick of hearing some good, old-fashioned Eleven Dollar Life.   The only reason I can't give this a 5 Skope rating is because I craved more from these Chicago natives.   Four songs just isn't enough for me; I need $20 worth instead of $11, so in the words of Busta Rhymes fellas "Gimme Some More"!
By Jimmy Rae (jrae@skopemag.com)
[Rating: 4.5/5]