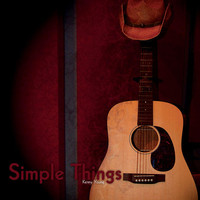 We should all enjoy the simple things in life and never take them for granted.   That is exactly what Kenny Young has done here on his new, full-length album Simple Things.   Young says that the record is about "good things, bad things, friends, family, just about everything about me."   Simplicity is never a bad thing, so I can't wait to dive into this one.
The Jersey-based singer/songwriter & rocker does not need any fancy electronics or gadgets to make this album happen; Kenny does more with less.   Kenny Young hopes to prove to fans that all you need is a voice to be heard and words that mean something in order to make a good record.   I'll take Kenny's word on it over gimmicky/flashy mainstream garbage any day of the week!   Kenny Young or Lady Blah Blah…who am I going to pick here…man, tough choice!   Hmmmmm…Don't mind me as I sit here pondering this difficult decision before me…WHAT TO DO–WHAT TO DO?
Enough senseless chit chat; let's get into this thing called Simple Things.   I have to say that all 14 tracks here exhibit a very cool style that Kenny plays up extremely well.   I'm hearing a mix of elements from country and straight rock to pop and southern rock.   The southern rock/country vibe was dominant here and I have to say I was diggin' it all!   I really enjoyed listening to each song as there wasn't one track that I didn't like.   Not to mention, the music sticks to you like glue thanks in part to catchy chorus lines and wonderful harmonizing.   Young definitely has a good singing voice where he knows exactly what he has to work with and in turn the harmonies & pitches are right on.   Besides that, I also have to say that Kenny Young is no slouch when it comes to the guitar.   Throughout the entire recording, I noticed some awesome rock guitar riffs that definitely stood out as well.   I have to mention that on tracks 10 & 11, I felt that Young was channeling his inner Boss because I heard a Bruce Springsteen feel loud & clear!   I was pleasantly surprised when I heard this and I just wonder what the Boss himself might think.   One of Jersey's finest rock musicians giving feedback on a fellow Jersey native & music artist would have been very interesting to say the least.   One rock powerhouse to the next we go with Kenny Young doing a cover of a classic Allman Brothers' song "Midnight Rider".   I have to say that Kenny did an excellent job here as I was just lovin' his version of the song.   The hit song was fun, well-done and I believe Kenny Young did "Midnight Rider" much justice.   I think the Allman Brothers would be very happy with this cover and all I have to say now is 'I got one more silver dollar'–hell yeah!
Other than the Allman Brothers and possibly Springsteen being impressed with Kenny Young's musical abilities, I am now on board and feel that many more will soon be convinced.   Young's approach to playing and making music is very genuine, which makes him an IDEAL artist of TODAY.   Don't stop and continue to bring on the jams Mr. Young!
By Jimmy Rae (jrae@skopemag.com)
[Rating: 5/5]