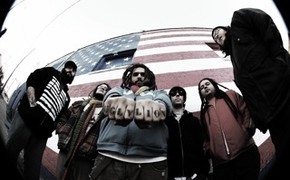 I know it's only Thursday but the good Skope mgmt decided to give Stoli a 3 day weekend, who am I to complain? As many loyal readers know, Stoli does not listen to Top 40 radio. This next band just cements my logic for having no patience for manufactured music. When I first put in the new EP from Ugly Lion I got the chills. This group coming out of Dallas, TX is putting out music that not only sounds good but has a message. I caught up with Brandon to find out what's up with Ugly Lion. We talk about everything from the lion as a symbol, reggae and revolution, and he even offers a free MP3 of "Worriers." Tell the Skope mgmt that I am keeping this EP for myself!
Stoli: Where are we talking from and how was your summer?
 
Brandon: We are in Dallas Tx, Our summer was very productive. We took that time to tour through the southeast and Midwest. We had the opportunity to play at some       great venues with some of our most favorite Reggae artists on the scene.
Stoli: How did the six of you come together and form Ugly Lion?
           
Brandon: We all met 7 or 8 years ago through the Dallas/Austin reggae scene. Eventually all of our separate projects just morphed into what is now UGLY Lion.
Stoli: I must compliment on how impressed I was with your media kit. It really says a lot that not only are you serious about your music but your sales/marketing as well. How did you guys learn to make it takes much more than just music?
           
Brandon: Well it comes from years of doing things the wrong way. When we were first starting to play together we didn't think past playing the songs. The truth is, there is a lot more to making a successful group. A professional image and attitude is just as important as being able to play your instrument and writing good songs. If you can't show up on time and you have a bad attitude, you won't make it far, and there is always room for improvement.
Stoli: What is the significance of the lion as a symbol and major animal of your music & reggae in general?
 
Brandon: First off, it holds deep significance Religiously. In personal sense we hold our character to that of a lion in strength, loyalty and courage. In Rastafari and Reggae in general the Conquering Lion is a symbol of Haile Selassie, the last king of the Tribe of Judah.        
Stoli: When you first started out how did you decide how Ugly Lion would be different from other reggae groups that have come before?
   
Brandon: We never thought about being different. We only wanted to stay true to who we are and let the music speak for itself.          
Stoli: Being that there are six of you, how do you keep it democratic or does one person rule creatively?
         
Brandon: When a song is being created, We all have equal input.Once the piece of music is put on the table everybody has a say in the process. That is the beauty of working with others, A song takes on a whole new personality that wouldn't be there if it weren't for all of us. We are Brothers, so When it comes down to the nitty   gritty we do whats best for the music and nobody takes any criticism personally
Ugly Lion "Worriers" MP3:
Stoli: Do you think that the stigma that marijuana and reggae go together is positive or negative and should the US consider legalization to boost the economy?
 
Brandon: It could be negative, because people that don't partake can't see past it. Reggae music is about reaching higher heights and for thousands of years different cultures have used Cannabis to get closer to G-D. As far as legalization, just look at the numbers.
           
Stoli: Who are two other up & coming reggae bands/musicians do you respect & listen to?
             
Brandon: Soldiers of Jah Army & Groundation
Stoli: Do you do music full time or do you hold down regular jobs as well?
       
Brandon: This our #1 priority by any means necessary.
Stoli: I love your song, "Jah Lift Me Up." Do you feel that songs like that can actually help people with depression and uplift them?
             
Brandon: You never know the wonders of music and the effect that it can have on a     person's mental and emotional state. Everybody reacts differently to music. I hope that every song we write can lift up someone's spirits and have a positive impact on their life.
Stoli: When you talk about "revolution" do you mean that in a musical or political sense?
           
Brandon: It's more of a personal revolution than anything else, Its about freeing     yourself and fighting   down the Negative.  
Stoli: I believe the people need more music from Ugly Lion and less from this crap I hear on the radio. How can Skope readers help spread the buzz on Ugly Lion?
 
Brandon: They can sign up for our street team (The Pride), Get on our email list, Spread   the word of our Message.
Stoli: What is coming up for Ugly Lion and where are you at online?
Brandon: We are taking the winter to get settled, we just added a new member to the Pride. Our singer had a baby boy. So we are laying low till January, Then we will be headed to Nashville to record the full length follow up to our E.P. After that we will be hitting to road again and focusing our energy on both coasts. We are online at www.uglylion.net, you can download our E.P. and free IPhone app On ITunes orAmazon, You can FaceBook us Follow us on Twitter, We are on Groove Shark and MoBoogie, You can listen to us on Last.Fm or see when and where we are playing next and come out.