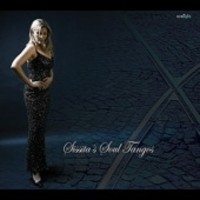 Get ready for a style of music that is so creative & original that it will amaze your ears!   Sissita's Soul Tangos and the genius behind it were originated by Austrian soul singer Sissita and Bueno Aires-based producer Ariel Gato.   These two members have successfully blended together classic Argentine tango, soul, waltz and even Pop.   One would think that this combination could never work, but guess what folks it did!!
All of the songs on this record were conducted by Gabriel Senanes and you also have an orchestra that includes some of Argentina's finest.   Ariel Gato recorded, edited and mixed this entire album while Carlos Laurenz mastered the whole thing.   Laurenz' credits include: Alicia Keys, Mary J. Blige, Angie Stone and Gustavo Fourcade just to name a few.   The entire crew did one hell of job to collectively come together and create this wonderful piece of work.  
Two things majorly stand out to me here and that would be the mixture of all different genres and the amazing vocal performance by Sissita.   I can't say enough good things about Sissita and her incredible voice.   This artist has one of the best voices I've heard in awhile.   She sings with such passion as you can feel her pouring her heart & soul in each and every note.   Sissita's delivery is second to none when it comes to her captivating, gripping, soulful and powerful vocal performance on Sissita's Soul Tangos.   Throughout the CD, you get a sense of sadness portrayed brilliantly by Sissita's tone.   Right out of the gates on track one, "All of You", you are hearing an elegant & classic approach instrumentally with soft 'n' sincere singing.   Next up on "Nightmares", this installment has a sense of Pop at times to go along with meaningful lyrics.   On this song, you witness Sissita's soul coming out loud & clear.   The feeling that you get and the feeling that Sissita pours out to you is one moving experience–really hits you!   On track five "Far More", I am even hearing a Gospel effect at certain moments.   I am hearing so many different genres of music on this 7-track recording that it just boggles my mind!
I have to say that the orchestra did an excellent job, the production was very well-done and Sissita sang her heart out!   The group effort here definitely proved to us and themselves that they made it all work with flying colors!   Sissita just blew me away on this record with her consistent poise & control as a singer.   She convinces us that she performs with such a genuine and pure voice that comes directly from the core.   My only comment and/or suggestion would have been to add some faster, more up-tempo songs.   Other than that, this album was perfect!   I feel that Sissita's Soul Tangos have a bright future together and can't to see what comes next!
Jimmy Rae (jrae@skopemag.com)
[Rating: 4/5]