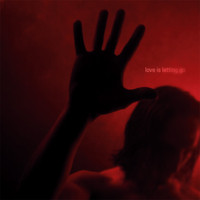 VTG is one man known as Lawrence Stone who releases his 6-track EP Love Is Letting Go.   It's worth noting that Stone is a prolific composer and multi-instrumentalist who also studied classical & jazz at The Berklee College of Music.   This multi-dimensional artist from San Francisco proves that he is extremely talented with skills galore!  
This EP is actually a follow-up to his 2004 debut release titled So Beautiful People Look Away.   A steady theme ran heavy throughout this new EP, which talks about people getting over heartaches and heartbreaks.   The emotions that go along with ending long term relationships between loved ones is touched upon in stellar fashion.   VTG expresses these feelings extremely well and really tries to connect with the listeners.   The songs are portrayed wonderfully by Lawrence as he takes you on an emotion rollercoaster ride complete with other elements that will entice your senses.  
The style of music here I would call Industrial/Rock/Electronic.   Stone blends all of these   all of these genres together to make it all sound very unique & interesting.   The other factor that hit me head on was the fact that VTG sang with such a dark tone.   You definitely sense this sensation as VTG sings each song.   One other area of interest that I simply loved was the use of sound/effects.   A great example of this would be on track five "Infection", which happened to my favorite song on the disc.   The electronics came in full force on this number while everything else just seemed to work perfectly.   The song "You" displayed a nice rock feel overall that was good to hear.   Finally on installment three, you hear a cool effect of snapping fingers that really helped bring this track to life.   Sometimes it's the most simplest of things that can make a huge impact.  
I think VTG definitely has something here and I am curious to see what he comes out with next.   However, my personal preferences wouldn't consist of this style of music.   Nothing against you Lawrence Stone because you do have something special here.   This is just something that I would not listen to on a regular basis due to the style and vocal delivery–except of course "Infection".   In the end, I can sense that you put forth incredible effort toward the making of Love Is Letting Go.   So…I do commend you on that and I'm sure that many other people will get to know VTG and his emotionally-impacted music.
By Jimmy Rae (jrae@skopemag.com)
[Rating: 3/5]