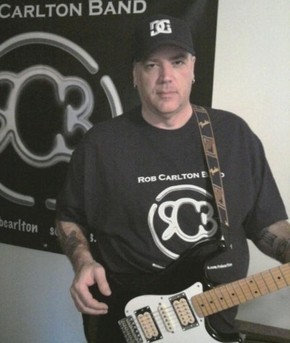 Another weekend is here and I could not be happier! This next feature has been in the making for well over a year already. Rob Carlton is one of the hardest working musicians I know. If he is not playing live he is is the studio and if not there he is on the phone networking his next move. The man is truly an inspiration and he knows that it takes good music & hard work to make it. Rob & I decided today was perfect to feature him as he just opened up his online store here at skopeing.com. Join us as Rob Carlton speaks on falling in love, what guitar he is using, drama free bandmates, and so much more!
Stoli: Where are we talking from today and how are you getting ready for the holiday season?
Rob Carlton: We are talking from my house in beautiful East Stroudsburg in the Poconos, PA.   I'm going to spend Thanksgiving with my daughter in Ohio.   For Christmas, we are going to Maine, where my girlfriend, Heather is from.   On the way, I'm showing her where I grew up on Long Island NY.
Stoli: Your name is so catchy, is that your real name or stage name?
Rob Carlton: Thanks, it is my real name.   I was born Robert Charles Carlton.
Stoli: At what age did you first pick up the guitar and fall in love with playing?
Rob Carlton: It was at the age of 12 that I fell in love with the guitar & my Mom proceeded to get me lessons.
Stoli: You have been so busy with your band lineup these days. Who are the official musicians that you are working with?
Rob Carlton: My bass player is Erick Brown, formerly of Stevie Wonder's band AND the Blind Boys of Alabama.   My drummer is Moe Altamuro, son of one of the original drummers of Dr. Hook.
Stoli: You have had to deal with alot of egos with past members. What do you look for & avoid when looking for musicians to work with?
Rob Carlton: I look for serious and dedicated musicians, which are hard to come by.   I avoid musicians who ask silly questions like "Have you been in a band before?" I also avoid musicians who skip practice and have unnecessary drama in their lives. I take the music business very seriously and it's my life long dream.
Rob Carlton Offical Store:
Stoli: People are still listening to and buying 'Beautiful Collision.' Did you know that album was so timeless and where can readers grab a copy?
Rob Carlton: I'm overwhelmed by the response this CD has gotten and I'm glad people are enjoying it.   You can order my CD at skopemag.com, cdbaby.com, itunes.com, newgroovemusic.com.  
Stoli: You got to play the new Stanhope House in Stanhope, NJ. How was that and what can music & food enthusiasts expect from this awesome venue?
Rob Carlton: Since the Stanhope House reopened in 2010, we're the only band who's played there twice. It was an awesome experience to play on the same stage as the legendary artists, BB King, Muddy Waters, Stevie Ray Vaughn, and Buddy Guy.   The stage and atmosphere look really good and the cheese burgers are awesome.  
Stoli: What guitar are you currently using & how do you choose what brand to play?
Rob Carlton: I play Fenders because they are lighter on my back, and Leo Fender has made an ingenious design.   It's hard to improve on something so awesome.   I really love the maple neck.   My favorite guitar which you can see in the YouTube videos is a blue 1989 Fender Deluxe Strat with a pearloid guard, Fender lace pickups & a factory Floyd Rose. My newest guitar is a Dave Murray (of Iron Maiden) artist series Fender strat, black with maple neck, with two Dimarzio pickups, which I love.   They give me the punch I need for the fierce guitar leads I play on stage. I'd like to make mention of two other guitar companies I'm associated with:   Halo Guitars in CA and Conklin Guitar in MO.   Halo makes some awesome, rockin metal guitars and I own a Halo Mirage, which I'll be making a video of.   Bill Conklin approached me the other day via email about him making me a guitar. I've done national ads for Bill in Guitar World and I have nothing but awesome things to say about Bill and his guitars.  
Stoli: You are currently seeking a booking agent. What goes into a live Rob Carlton show and how can agents reach you?
Rob Carlton: That is correct, I'm looking for a reputable agency that can take me to the next level. Agents please email shelikesrock@yahoo.com. My short term goal is to be a solid opening act for national bands.   I have opened for national acts in the past, such as Blue Oyster Cult, Cinderella, Zebra, Joe Bouchard and others.   My long term goal is the become the headliner.   The Rob Carlton Band brings the audience all original instrumental guitar-driven rock & brings to the forefront the guitar hero once again with intense guitar leads.
Stoli: You are currently in a relationship with a wonderful woman. How does being in love effect your music and how do you balance everything?
Rob Carlton: Yes, her name is Heather Crawford & she is by far, the best thing that has happened to me.   Being in love makes for some very spontaneous and beautiful compositions.   Heather and I have a lot in common so it's easy to balance things.   She plays guitar and loves rock music.   She does an awesome job helping out with band stuff & does the recording for the Youtube videos.
Stoli: You have been putting up awesome videos on Youtube recently. What is the strategy behind that and what is the Youtube channel?
Rob Carlton: The purpose of the videos is to spread my music to a wider audience, and to document various venues I've played. People can see my videos by searching for "rob carlton band" or going to my channel "robcarlton1."
[youtube 6LwUtVPY5i0 nolink]
Stoli: How has playing an instrument benefited you in life both physically & spiritually?
Rob Carlton: Playing the guitar has made my arms and hands strong, but on the down side, a lot of playing can hurt your back.   That's why I switched from heavy Gibson Les Pauls to Fender Strats.   Another physical trait is the tattoos I've gotten over the years.   They are all music or God related.   You can see them on www.myspace.com/robcarlton.   I'd like to give high praise to Rick at Rockin Willy's Tattoos in the Poconos.   Playing the guitar taken me to a higher spiritual level because I realize who gave me this ability, and nothing happens by accident.   It is all a gift from God.      
Stoli: What is coming up for Rob Carlton and where can we follow you online?
Rob Carlton: Lots of live shows, and recording a follow up to Beautiful Collision very soon.   I have written lots of new tunes which are getting great responses at our shows.   Due to my "quality musicianship," I was recently chosen over thousands of other bands by producer David Snow (of In Living Color T.V. show, Faith Hill & other Universal artists) to collaborate on my upcoming album.   I was chosen this week to go to "Live at Groovebox Studios" in Detroit to record 4 tracks and be interviewed.  
You can follow me online at any of these sites:
 
http://www.sonicbids.com/robcarlton (see my EPK here)
http://www.myspace.com/robcarlton
http://www.myspace.com/rcbfan
http://www.facebook.com/profile.php?id=686461278
http://twitter.com/guitarhead77
http://www.newgroovemusic.com/rob-carlton
http://www.cdbaby.com/artist/robcarlton
http://www.jango.com/music/rob+carlton
http://www.reverbnation.com/robcarlton
http://www.radiolicious.fm/artist/rob%20carlton/38134
Thank you for the awesome questions! Have a great day!