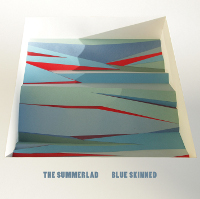 The fact that The Summerlad are largely unknown is a crying shame. This three-piece out of Calgary, creates a sonic landscape that is as intriguing and immense as the country which they call home. Stretching guitars, combined with driving percussion and a pure, brazen passion for the music they're making is what Blue Skinned, their fourth release is all about. For once, post-rock sounds exciting.
There's very little in the way of compromise when it comes to The Summerlad. "Koma Kidz," the frantic and chugging opener clocks in at nearly six-minutes and begins what will be a largely frantic pace for the rest of Blue Skinned. The Summerlad utilize the noisy, furious edge of harsher contemporaries such as A Place To Bury Strangers but go about it with the grit and resilience of Canadian counterparts, Constantines.
The classic-rock influences might be few and far between, but never do they sound prevalent (And never does the band sound better, for that matter) than "On A Witch's Ride," which features a swaying, Tom Petty riff that stretches without abandon and gets cranked up well beyond 11. There's nothing about The Summerlad that will lead you to single them out in a single genre. But that's a good thing; if there were more bands that put out consistently mind-bending records such as Blue Skinned, there'd be a lot less people concerned about the state of the music industry.
By Joshua Kloke
[Rating: 4.5/5]