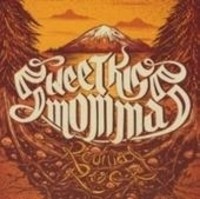 First off, I have to say right off the bat that I simply love the style of this group.   SweetKiss Momma has such a cool vibe goin' that incorporates rock, southern rock, classic rock/modern rock and blues.   Not to mention, this Seattle/Tacoma-based group offers up a kick-ass band name.   Revival Rock is definitely sweet and should be enjoyed by many.
Sweetkiss Momma is made up of five members: Jeff Hamel on lead vocals, guitar & harmonica, Randy Jackson on bass, Aaron Arnold on lead guitar, Waid Hoyt on rhythm guitar, vocals & trumpet and Tyson Lickert on drums.   What's so great to hear is that all five musicians collectively bring it all together very nicely.   Hamel gives you one hell of a vocal performance that is both powerful & soulful throughout the whole 12-song set.   You will say to yourself, by the end, 'damn, this guy can really SING!'   I was also very impressed with the overall guitar playing as Aaron, Waid and Jeff were all on fire!   Aaron Arnold definitely had some killer guitar solos that really stood out.   Tyson Lickert really kept a solid beat as did Randy Jackson on bass.   The whole band just brought their A-game and played the hell out of each and every song.  
On the opening track "Ready To Go", I heard a cool southern groove as I was really feelin' this one.   On the next song "Son of the Mountain", I picked up on a soulful approach by Jeff Hamel with the guitars really bringin' it and the whole band just workin' it.   You also hear the harmonica breaking in here, which supplied a nice touch.   On the next number "Slow Fade", the guitar playing and drumming is extremely noticeable and very well-done.   Up next we have "Mercy Love", which gives you a stellar vocal performance from Hamel.   For being such a calm/laid back song, it had such a BIG & POWERFUL SOUND.   I really tapped into a genuine feeling here that was portrayed & delivered in phenomenal fashion.   On track eight "Ounce Left of Pride", Jeff Hamel delivers a meaningful message, which states that you have to swallow your pride just to get by today.   This idea makes complete sense and is so relevant!   Next on my list is "Sugar in the Raw" that had a guitar effect/technique I love and harmonica is rockin' it once again.  
On the whole, this record was incredibly catchy, had a very nice flow and really draws the listener in.   Excellent job here overall for Sweetkiss Momma as they prove to you that they hold all of the perfect ingredients and essentials toward being a hugely successful band.   This group is ready for the BIG TIME right now, so listen close as Sweetkiss Momma attempt to take over the airwaves and come to a music venue near you!   Sweetkiss Momma ROCKS!!!
By Jimmy Rae (jrae@skopemag.com)
[Rating: 5/5]