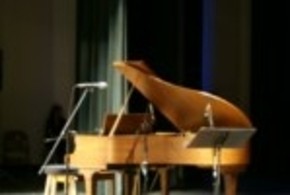 Hey all you Music Lovers! We're back at the club with a very special group of folks here tonight. We're all putting on our highbrow suits, our slinky little black dresses, and our stilettos because we have jazz artists in the house. I'll take you to meet them in a bit but before that I wanted to share some news.
Some really great jam/rock musicians are starting a brand new tour together. This is the first time that Kinetix, Roster McCabe, and The Brew will be rotating a headlining schedule throughout the Midwest. They began in Denver on Oct 1 and have shows booked nearly every night.   There is no 'tour' website — but this is a good page to find out all about it: http://www.thekinetix.com/home/shows
October 13th — Burlington, VT @ Nectar's
October 14th — Narragansett, RI @ Wheel House Tavern
October 15th — Boston, MA @ Paradise Rock Club
October 16th — Unity, ME @ Unity Center for the Performing Arts
And I wanted to point you to live streaming interviews with Red House Record artists Meg Hutchinson and John Gorka. They're on an mp3 player at my author's website. (Refrain Magazine will have an mp3 player soon, too.)
http://janiefranz.fourfour.com/bio
In addition, later this month, there will be an in-depth CD review and profile of jazz guitarist Peter Douskalis at Refrain Magazine (www. refrainmagazine.com).
Sonicbids Lounge
Well, we better put on our best manners to impress the lot in our Sonicbids Lounge tonight. We've opened the bar a few hours early because we're showcasing a lot of great bands. Come on in….Hey, Snake, I thought I told you it was formal tonight….Stop grinning at me while you're shaking that cocktail shaker. A black biker t-shirt and a white bowtie just doesn't say formal….I know they can't see all of your Maori tats otherwise, but a tux with all that metal in your face would still be macho…Ok different. If you weren't the best bartender in this virtual world, I wouldn't put up with your cheekiness….Pour that thirsty customer his drink and stop kissing my neck….
You'll have to forgive Snake. He is the best there is. So place your drink orders and follow me into the room. What we have tonight is a wide array of jazz artists and some jazz and soul singers I think you might like. We're doing things a little bit different. You'll notice that we have a live band playing on our stage. We decided not to wait until late night to showcase bands on our stage.  
Bill Warfield Big Band and Lehigh Valley Funk Orchestra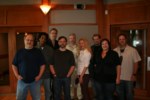 That funky jazz you're hearing is coming from the New York Jazz Repertory Orchestra from New York City, under the direction of trumpeter Bill Warfield. These folks do mix of jazz including hard pop, classics, and even some Latin and contemporary works. An expandable group, the orchestra can perform for any size venue from a cozy eight-piece band called the Bill Warfield Octet to the full-bodied 16-man New York Jazz Repertory Orchestra. We managed tonight to squeeze the full orchestra onto our stage.
The orchestra's sound is crisp and clean. As you would expect, the horn section is top notch with Warfield sharing trumpet duties with Bob Millikan, Danny Cahn, and John Owens. They are assisted by trombone players Tim Sessions and Sam Burtis and reed players (including clarinets and saxes) Mark Phaneuf, Dave Riekenberg, Dave Richards, and Frank Basile. But I was most impressed with pianist Tim Harrison's funky organ, Scott Neumann's driving drumming, Tim Harrison's rhythmic guitar, and Memo Acevedo's colorful percussion. But it was Gene Perla's creative bass that blew me away at times.
Warfield himself has played with some of the best:   Ornette Coleman, Paul Anka, and Met Torme. He currently has seven recordings out: New York City Jazz, The City Never Sleeps, Nomad (with Dave Stryker), A Faceless Place, Sambra, Live at Zoellner (with Gene Ludwig), and Le Jazz Hot (with Dave Liebman).
Maxine Willan Jazz Ensemble

If you'll walk into this alcove, I'd like you to meet the Maxine Willan Jazz Ensemble from East York, Ontario. Their sound is a sultry mix of Willan's lyrical piano that complements but doesn't compete with other players such as Kurt Lund on saxophone and flute. Generally, Willan performs as a trio with only drums and bass players. It's an energetic mix that doesn't support the piano but allows the other players to shine. She's here tonight with Lund, double bassist Jon Maharaj, drummer Ethan Ardelli, and percussionist Walter Maclean, who all played on her latest CD, Touching You. It is the follow up album to her debut Alone & Together, which came out in 1998. You can find out more at http://www.maxinewillan.com
Soren Bebe Trio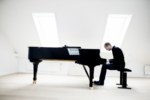 Sitting at the next table is the Soren Bebe Trio from Copenhagen, Denmark. Another piano fronted band, this band produces innovative original work that is exceptional. It is Soren Bebe's hand at the piano and his fresh compositions that set this trio apart. The intricate drum work of Anders Mogensen offers a counterpoint to Bebe's melodies. Mogensen's light touch produces color and interest rather than a rhythm driving each piece. Electric-bass master Niels Ryde equally produces a sound stream that is different yet from Bebe and Mogensens' paths. The work is complex but not muddy, intense but not taxing, and, most of all extremely interesting to listen to.   The Soren Bebe Trio have two recordings Searching released from MusicMecca in 2008 and From Out Here from Your Favourite Jazz that came out this year.   Veteran jazz enthusiasts and those newly introduced to jazz will love the Soren Bebe Trio….Superb work!
Renolds Jazz Orchestra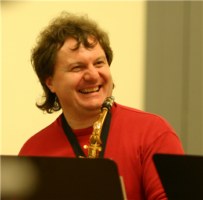 In this separate room off the main lounge, we have the Renolds Jazz Orchestra from Schoenenwerd, Switzerland warming up before they take the stage.   Formed in 2005 at the Swiss music festival Jazzaar to record the music of saxophonist and composer Fritz Renold, the band produces an upbeat sound laced with traces of Eastern European folk elements especially in its clarinet work by Fritz Renold who also plays alto and soprano sax.   Patrick Furrer conducts a stellar group of musicians: Greg Tardy (alto saxophone, clarinet), Tommy Smith (tenor and soprano saxophone, flute), Donny McCaslin (tenor and soprano saxophone, flute, alto flute), Bernd Konrad (baritone saxophone, bass clarinet), Willie Murillo (lead trumpet & flugelhorn), Randy Brecker (trumpet & flugelhorn), Barrie Lee Hall (trumpet & flugelhorn), Steven Bernstein (trumpet, slide trumpet & flugelhorn), Amir Elsaffar (trumpet, cornet & flugelhorn), Vincent Gardner (trombone), Patrik Lerchmüller (trombone), David Taylor (trombone), Jamshied Sharifi (piano), Miroslav Vitous (accoustic bass), Adam Nussbaum (drums), and Willy Kotoun (percussion).   And they're all here tonight, including vocalist Helen Savari-Renold.
We're very privileged to have the Renolds Jazz Orchestra here giving our lounge guests an avante gard, world-rooted look at jazz.
Their CD, Cube, is available here in the US:
Renolds Jazz Orchestra 'Cube': www.cdbaby.com/Artist/RenoldsJazzOrchestra
Mina Cho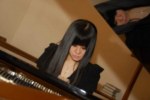 Over here at this big table is Mina Cho and her band from Brookline, Massachusetts. They will give us a taste of Mina's original compositions laced with North and South American jazz influences. A Summa Cum Laude graduate of the Berklee College of Music in 2009, Mina has played in Boston, Venezuela, Brazil, and Korea for jazz festivals and many other musical events, including appearances as a pianist and organist for area churches. She has appeared on twelve recordings, including two for the Mina Cho Quartet and one Mina Cho Big Band. This year she signed with Blink Music and released Originality, a full length CD of her compositions. Mina's piano is assisted by drummer Mario Rodriguez, bassist Sam J.C. Lee, guitarist Shu Odamura, and sax player Andrew Halchak. Her compositions are intricate, fresh, and bright.
http://www.mncmusic.com
http://www.minachomusic.com
http://www.myspace.com/thebostonblue
Steve Raybine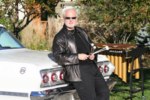 And at this big table is Steve Raybine from Omaha, Nebraska. He's a master vibraphonist, percussionist, bandleader, composer, and educator with there albums under his belt. His debut CD, Balance Act, was followed by Bad Kat Karma and In the Driver's Seat. His work is fun, funky, and balanced, never letting the vibes overpower organ, guitar, or whatever other musical voices are in a piece. Steve's work is all over the map, mixing in pop, latin, r&b, and funk with his jazz mix.
To find out   more about Steve Raybine's music and performing dates, check out his website at www.steveraybine.com.
Double Helix

Sitting with Steve Raybine are brother guitarists Tony and Peter Chotem who have been playing together for thirty years. Hailing from North Vancouver, British Columbia, the brothers followed in their father's musical footsteps. Neil Chotem was one of Montreal's most sought after musicians, composers, and arrangers, having worked with one of Quebec's most successful rock bands, Harmonium. Branching out into jazz, Tony and Peter improvised around jazz standards and even Celtic tunes while also writing original music. Tony plays electric nylon string guitar, guitar synthesizer, and electric guitar and Peter Chotem plays acoustic guitar. Performing under the name Double Helix, the brothers' live appearances can be either as a duo and as a quartet, using Montreal bass players and drummers from the greater Vancouver area. They have two CDs: Double Helix Live (2000) and Phoenix Rising (2007).   Douible Helix was the runner up in Ropeadope Radio's 2009 Sonicbids Competition
Alex Bershadsky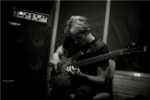 Also at this table is Alex Bershadky, a talented bassist and compose. Latvian born, Alex grew up in Tel-Aviv, Israel. He's played electric bass and fretless bass with a variety of Israeli musicians and appeared at the The Red Sea Jazz Festival, and Rigas Ritmi – the largest annual rhythmic music festival in the Baltic region. He formed two bands in the 90s. RTZ was a jazz fusion band that toured Europe and released one album, Return to Zero. The other band, Zonzee, recorded two albums: Time Flies (1999) and Buzz (2005), which featured legendary guitarist Mike Stern.   Both albums were filled with Alex's original material. Since then, Alex has toured the US and released his first solo CD, Junk, in 2007. He's currently working on his second album that reflects his comfort with jazz and improvised rock. He tours with Shlomi Maya   on keyboards, Oran Ben-avi   on alto and soprano saxes, and Erik Istaharov on drums.
Chelsea Baratz

I'm so excited about this next artist. I'd like you to meet Chelsea Baratz from New York City. She's a rare commodity. As we have seen tonight, woman fronted jazz bands are rare and when they do, they usually occupy traditional seats as we will see here tonight: at the piano or at the vocal mic. Chelsea Baratz is first a saxophone player. Her debut CD, In Faith, is not her first recording. She appeared on Maurice Brown's Mobetta & Soul'd U Out: the Official Mixtapel, Corey Wilkes' Drop It, and Aretha Franklin's Jewels in the Crown. In Faith sparkles with the talents of guest musicians, but Chelsea travels with an entirely different band
She's a risk-taking player and a creative composer. With an innovative ear, she produces a new kind of jazz, combining 1960's soul, hard bop, with blues and gospel into something truly soul-felt. Her talent was recognized early by the jazz community of her hometown of Pittsburgh. Even as a teenager, Chelsea sat in with hard-bop artists who helped her hone her craft. She also played with jazz great Branford Marsalis.
Four years ago, when Chelsea was 20, she collaborated with trumpeter Corey Wilkes who became a member of her current band along with Maurice Brown on trumpet, Marc Cary on keys, Burniss Earl Travis, on bass, and John Davis on drums.
Chelsea is a bright new talent to watch.
Amun-Ra Amani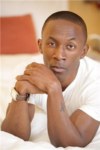 We have a special treat tonight. In addition to all of these great jazz groups, we are featuring three singers.   Our first is Amun-Ra Amani from Salt Lake City, who combines old school soul and r&b with hip-hop. Amun-Ra calls this blend Poetry and Soul.
In 1996, Amun-Ra signed with Saga Records and released a rap EP, The Antidote. This early experience and creative differences with another label motivated Amun-Ra to build his own label and publishing house: Songh Dynasty and Pegasus Recordings. Legend is Hear was release under his own label in 2009. This year, he released Chocolate City, a collection of hip-hop, r&b, jazz, and soul pieces.
 
Roger Cairns

Waiting with Amun-Ra is Scottish born singer Roger Cairns who now lives in LA. He worked with the LA-based Dirk Fischer Big Band for a dozen years before forming the Roger Cairns Jazz Crew in 2004. Two years later, Roger released his debut CD, A Scot in L.A.   His sophomore effort, Let's… followed two years later.   His interpretations of standards are thoughtful and sometimes very playful. And he's willing to take on the challenge of a complex, difficult piece, making it appear to be as easy to sing as breathing.
Roger brought his Jazz Crew with him. They are Gary Fukushima on piano, Matt Otto on tenor sax, J.P. Maramba on upright bass, and Ryan Doyle on drums.
PJ Parker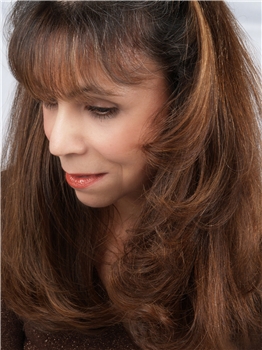 Our headliner is PJ Parker from Somerset, New Jersey. Her vocal renderings of old standards and new compositions is unique and instantly personal. PJ has been performing since she was five when she'd sing in Long Island restaurants for olives. Since then, she's traveled the US and the Caribbean and even performed in summer stock, regional theater, and musical reviews.
Her first CD, Intimate, (2006) tipped her musical hat to her father jazz pianist Tom Parker who introduced her to the great jazz singers such as Sarah Vaughn and Carmen McRae. It's Christmas followed the next year and featured the debut of her original song, "Not Beneath the Tree."   Her last album, Dreams are Meant for Two, (2008) is a collection of classics such as "Moonglow" and "Black Coffee," plus three of her own originals.
She's joined tonight with her band: Vinnie Ruggieri (piano), Earl Sauls (bass), Tim Horner (drums), Joel Frahm (saxophones), and Coleman Mellett (guitars).
We're looking forward to hearing her lovely voice. It is a powerful but well restrained instrument that will have us all a puddle of mush at the end of her set. Welcome PJ.
Arcomnia

Playing at a special after party tonight when we close the bar, will be Arcomnia from Bradford, UK. Their mix of world musical elements into a jazz configuration will give us plenty of music to dance to. Graham Wrght, who is an arranger /composer/producer and multi instrumentalist-has played drums with Graham Walker, Pearl and the Prairie Dawgs and the Cajun Aces. Here he mans bagpipes keys, and laptop. Keys player Andrew Wood, who used to be with The Breed, plays didgeridoo here as well as keys, and also mans a laptop. Sian Ashby's Eastern European clarinet can also be found jamming with JewJam and Ian Totthill's fiddle and viola add another layer of color. Totthill was an member of Old Joe Zydeco and Cajun Aces. Rounding out the band is Abdul Haddani on a variety of percussion instruments. Arcomnia mixes Andalusian/Sephardic song, Judaeo/Christian chant, Sufism, Northern European paganism, and Australian aboriginal musical styles with twenty-first century technology to produce not just a blending of the ancient with the contemporary but also a bridge across time and spirit that is meaningful for today.
http://www.myspace.com/arcomnia
Well, that's it for this month's Music Up Close with Janie. Stay around for the after party. Next month, we'll look at blues artists.
Written & Created By: Janie Franz — jfranz@skopemag.com