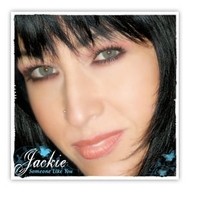 Jackie Arredondo is an artist who is not afraid to step out of her comfort zone and try something new.   With the release of her EP Someone Like You, Jackie is proving that she can take on a solo career and do just fine.   For years, Arredondo was a well-known vocal coach within the TV and music industries.   She was also heavily involved with the Latin music scene primarily in Miami and now Jackie emerges as a bona fide Country Music Artist.   Talk about a complete 180, but Arredondo is ready to convince listeners and herself that this is no joke.  
Jackie's resume leading up to this 5-track EP is quite impressive to say the least.   She has trained artists for: Sony Music Latin, BMG, EMI Capitol, Universal Music Group, Warner Chappell, Emilio Estefan, Tommy Mottola and Sean "Diddy" Combs.   Arredondo has also worked with: Gloria Estefan, Brenda K. Starr, Jaci Velasquez, Julio Iglesias Jr. and Rick Wake (producer for Gloria Estefan, Mariah Carey and Whitney Houston).   Going from behind the scenes to center stage as a performing artist must be a very exciting feeling for Jackie Arredondo.   Jackie had this to say: "This is my first time doing what I really love and what I really wanted to do in life".   Good for you Jackie; now go get 'em!  
The EP starts up with the title track and this song definitely hits you due to her passionate performance.   You can tell that Jackie was meant to do this and that she feels very strongly about the music at hand.   This opening number has a catchy/radio-friendly touch to it thanks to the Pop/Country sound.   The next track, "Put Some Man on That", had a heavy Country feel that made her a highly believable artist.   Jackie's performance on this project proved to me that she can tackle Country music head on and still remain true to herself.   Jackie does Country & Pop music proud and I'm sure that it will catch on with many other people to come.   Someone Like You definitely hit a chord with me because I could sense how bad Arredondo wants this.   The confidence level expressed by Arredondo on all five installments is off the charts.   The EP was extremely well-done and perhaps we could have a star in the making.   Whatever happens with Jackie Arredondo's solo music career, I can say this much and that is that Jackie is off to a tremendous start!   Also, with her deep Spanish roots and the many years spent in Miami, Jackie will be recording a Spanish version of Someone Like You.   So…be on the lookout for that and keep this musician on your radar.
By Jimmy Rae (jrae@skopemag.com)
[Rating: 4/5]