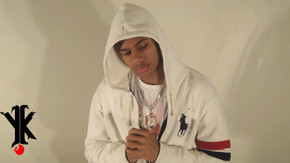 It is Friday and Stoli is about to get paid & about to get his party on. I had to travel to Detroit to hang with my next guest that goes by the name of Yung Khan. What impressed me about this emcee is his work ethic and music quality. Yung Khan knows that to make a name in hip hop is harder than ever but with alot of hustle and his own home studio he is allowed to practice & perfect his craft all day & night. Join us as Yung Khan speaks on Detroit, basketball, the MTV VMA's, and much more!
Stoli: How did you get the name Yung Khan?
Yung Khan: I got it from the historical Mongol war general Genghis Khan. I wanted my name as an artist to have meaning and I remember thinking how Genghis Khan almost took over the world.   That's what I want to do with my music, so I ran with the name Yung Khan.     Lately that's evolved into YdotK which is the abbreviation of Yung Khan (Y.K).   That's what most people call me as a matter of fact, so much so that I made it my twitter name.
Stoli: Where are talking from today and are you excited to watch the Detroit Lions this season?
Yung Khan: I'm in my home studio playing Madden 2011. I just finished recording tracks for a new project I'm working on. As for the Lions, this the first time in a long time I think they will be decent.   They've got a good young team and they should be competitive.   I'm not saying playoffs but they should be competitive.   Hopefully they can catch a couple of good breaks, not like the horrible call at the end of the Bears game.
Stoli: You are constantly recording new music. Please explain how you get inspired to sit down and write a song or verse?
Yung Khan: Yes, I try to constantly make new music of all kinds.   As far as inspiration, well since I don't actually write my verses down, most of my inspiration comes as I am in the studio recording the song.   It's exciting putting an idea on a beat during the recording process and taking the song in which ever direction you feel it should.   Music or song ideas come randomly, I may be in class or walking around campus at school and I'll get an idea for a song.   I'll record it on my phone then when I get home make it into a song.
Stoli: How did growing up in Detroit help shape you as an emcee and what you rap about?
Yung Khan: Anyone from the Detroit/metro Detroit area is going to be effected by the history of the city.   Being Motown I really believe that every artist here wants to put Michigan and Detroit back up on that musical pedestal of being the number one place for music.   Will we all come together and do it, I don't know. We definitely need to come together and help each other. As far as the effect on what I rap about it's actually the opposite of what people think of Detroit.   I'm not rapping about trappin or banging.   I rap about what I like which doesn't sound like many people around the area.
Stoli: Basketball is a passion of yours. At what point did you decide that you could do big things in music and how are music & basketball similar?
Yung Khan: I played basketball throughout high school and first two years of college.   I love playing still and now even coach some but music was always my 2nd passion since I can remember. I used to be shy about my music.   I knew I could always rap but would never do it in front of people.   I realized I could do big things after I decided to share my music with everybody. The response was really great and that's when I saw how successful I could be and started taking it really serious.   Music and Basketball are similar in that both are a team sport and you are only as good as the members of your team.   To be successful in both you must have a great game plan, work extremely hard and be flexible & willing to adjust as the situation demands.
Stoli: Last Sunday was the MTV VMA's. How do you feel when you see the emcees there and would you like to perform there one day?
Yung Khan: Of Course I'd like to perform at the VMA's one day who wouldn't!   It seems like an amazing experience. Honestly I didn't even watch the VMA's this year. I was watching the Cowboys vs. Redskins game for my love of football and fantasy football's sake. I watched some of it on YouTube the next morning and I like Eminem's performance.   He always brings a lot of energy, he's fun to watch.   I also liked Kanye West's new song.   That guy is hilarious.
Stoli: I really like your song, "White Lies." What is the meaning behind that song to you and who developed the hook?
Yung Khan: Thanks, the concept of white lies started with the beat from the producer Kajmir Royal.   He did the hook.   I remember searching for beats and came across that one and as soon as I heard the beat drops, I knew I needed that beat.   It was very unique and cool.   The meaning behind the song lies in that a lot of people front and lie on a daily basis.   Everyone can easily relate to that so I decided to make a song about it.
Stoli: I love the beat for "Drop It To The Floor." Are you a producer as well and how do you choose what beats you want to rhyme over?
Yung Khan: Yes, great beat. This beat was produced by Yung Frank.   The interesting thing about this track was the public response.   DJ's were emailing me how party goers were actually dropping everything to the floor.   I do try to produce at least one track off of every mixtape.   I came across this beat about 3 months before I actually made a song of it.   For me, it's if I hear the beat and instantly think of a hook then I figure it's gonna be a good song because hooks are the hardest things for me to think of.   Even though I came up with the hook instantly, I didn't use the beat until 3 months later when I came across it again.   The hook I originally had still sounded good so I rolled with it.
Stoli: You released 'I-Khan" earlier in 2010. Where can readers cop that album and what does that album show in your rhyme skill to fans new & old?
Yung Khan: They can cop the EP off of amazon.com and the full mixtape off of my website www.yungkhan.com. This project shows a lot of versatility. I have songs for fans of classic Hip Hop, Pop, R&B and Modern Rap so I think all music fans can find something about I-Khan that they like.   I wanted to be different and show my versatility. I feel like I did a good job with the I-Khan project.
Stoli: Do you listen to music outside hip hop/R&B and if so what artists?
Yung Khan: I didn't for the longest and really don't know why.   I recently just got sick of hearing the same type of rap on the radio so I started listening to other things.   As a matter of fact I'm listening to 30 Seconds to Mars "Kings and Queens" right now.   I love all types of music and all types of artists from Lil Wayne, Kevin Rudolph, 30 Seconds to Mars and even Lady Gaga.   I listen to anything that's good music or that catches my ear.   I'm not bias to any music type which makes me a better rapper because I am able to mix genres in my lyrics and say things in a way to apply it to my own style. I recently went to the Mississippi Blues Fest and came away with a concept for a blues track.  
Stoli: What is coming up for Yung Khan and where can we follow you online?
Yung Khan: The next big project that's it coming out is Mortal Khanbat Annihilation.   It's the 2nd mixtape in my 3 part Mortal Khanbat series which drops Jan 2011.   I do have a small project to tide fans over until then called Mortal Khanbat 1.5 (MK1.5) or Black Thursday which drops Oct 22nd.   I found myself having so many unused tracks that I decided to put out Mk 1.5 for the fans.   It will all be available on my website www.yungkhan.com. Online you can follow me on twitter @ydotk or add me as a friend on Facebook at www.facebook.com/yungkhan.