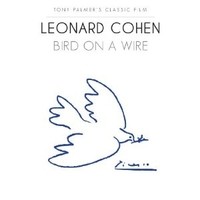 Tony Palmer's Leonard Cohen "Bird on a Wire" was to be his masterpiece: that is, until it was re-edited without Palmer's permission and released   in 1974.   Using a   recently discovered dubbing track of the film as a guide, Tony Palmer salvaged the 294 cans of damaged film that were found by Frank Zappa's manager,   Herb Cohen, in a Hollywood warehouse and edited some of the footage into the first-ever authorized   release of Leonard Cohen "Bird on a Wire".
Leonard Cohen "Bird on a Wire" tells the story of Cohen's 20-city European tour that began in Dublin, on March 18th, 1972,   and ended on April 21st , in Jerusalem.     From Leonard's frustration with the malfunctioning speakers that ravaged the tour, to his story of how he lost the rights to "Suzanne," to his thoughts on being Jewish, this documentary gives an intimate portrait of life on the road, as well as of Cohen himself.
"I am an old scholar, better-looking now than when I was young. That's what sitting on your ass does to your face." – Leonard Cohen
Sadly, the DVD is not without it's share of flaws.   Tony Palmer, for no explainable reason, mashes footage of   Colonel Nguyn Ngc Loan's executing Viet Cong officer,   Nguy'n V?n Lém, and footage of other — and anachronistic, given the date of the tour –war atrocities over Cohen singing   "Story of Issac." To make matters worse, during Leonard's LSD influenced   performance   of "So Long, Marianne",   he cuts to scenes from the musician's childhood home movies. What is the purpose of these directorial decisions?   Does taking a hit of LSD make you remember your childhood in Montreal, Quebec? Unfortunately, there is no director's commentary where Tony Palmer explains these artistic choices.
Overall, this documentary is a must buy for any fan of Leonard Cohen. The DVD even features a replica lobby card and movie poster, and a booklet featuring clippings that highlight Cohen's tour.
Review By: Shawn Alexander Roy
[Rating: 3.5/5]