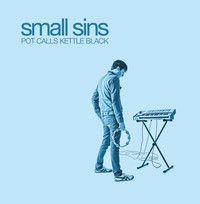 Thomas D'Arcy, who apparently sealed himself in a basement studio after the implosion of his band, The Ladies and Gentleman, seems able to craft precise and well-crafted pop tunes with alarming ease. Of course, it doesn't hurt that Pot Calls Kettle Black, his latest, was produced by legendary Chicago-based producer John McEntire. Each of the 10, shimmering synth-laden tracks showcase D'Arcy ear for refined pop, with McEntire glossing the entire thing up for added effect.
From the creepy groove of "Never Again" to the comfortable sway of "Where There's Gold," D'Arcy and the remaining four members of Small Sins have managed to run the gamut of contemporary pop without missing a beat. There's tangible elements of funk within "Deja Vu," which features Canadian rapper k-os. And there's even a nod to atmospheric post-rock on "Tonight," the album closer. And it all sounds so clean, you could eat off it.
While D'Arcy draws inspiration from the four corners of pop throughout Pot Calls Kettle Black, the album does lack a certain cohesiveness and focus. But when D'Arcy and crew do find a unifying voice, you know they'll be able to draw on the lessons learnt from this glossy, oft-radiant collection of pop tracks.
By Joshua Kloke
[Rating: 2.5/5]