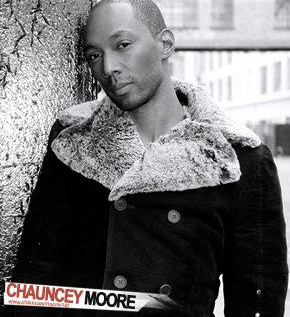 Now that was a great weekend! I really do not feel like ending it so I brought in an amazing guest who has got just what Stoli needs to keep it moving into the week. Allow me to introduce a soul singer named Chauncey Moore who is currently residing in Boston, MA. I got hip to Chauncey after hearing his breakout single, "Derailed." Chauncey Moore can not only harmonize but he can write songs with just the same passion & talent. I am excited to have a fellow Bostonian to talk about relationships, his diverse family tree, moving to Boston, & much more!
Stoli: Where are we talking from and are you excited for the fall and the weather getting colder?
Chauncey:   Not sure I understand the first part of this question.   But if you are wonder where am I answering these questions from, the answer is that I am currently in Copley square at the library catching up on reading my new favorite book by james baldwin– "If Beale Street Could Talk."
As far as the weather I love the fall.   The change of seasons has a huge effect on me as a performer and a song writer. The cooler temperatures are great for me because they inspire me to pay more attention to nature and how the universe responds to and embraces change.
Also, the cold temperature keeps me focused on writing and creating new work so that when I get on stage I have something new and fresh to offer.  
Stoli: I just watched your video for "Derailed." What happened in real life that inspired you to write that song?
Chauncey:   Derailed is one of my favorite songs I have ever performed and probably the truest.   I was in love with this girl like she was everything.   And gradually over time we started drifting apart.   I was starting to be in the studio all the time and around a lot of artists and fans.   The song explains how we found ourselves at a crossroad. We had to decide what we were going to do.   I wish I could say that we are closer today than we were a year ago.   We really forgot how fragile love was.
Stoli: Have you been hurt in love and how did you get back up and start dating again?
 
Chauncey:   Oh my god.   You would ask me that.   Lol.   Until recently I felt like nah can't nobody hurt me.   Men don't get hurt.   But that's a lie.   Of course I have been hurt.   More than a couple of times actually.   It's pretty easy I think to say,   "that's it.   I'm done."   But I think that would be a mistake.   Getting back up is hard.   Mos def.   The last time was the worst.   I didn't feel like doing anything for the longest.   And then I think one day I was watching some movie.   I think it was "why did I get married 2" and one of the characters talked about how even when you lose the love of your life, it doesn't mean you don't deserve to be in love.   That was the big turning point for me.   So I got back out there and tried it again.   Whether that one you loved comes back or not.   I had to kinda forget the hurt and put myself back out there.   I truly believe I am a better man with love,   even with all its ups and downs, than I am without it.
[youtube eC7RmWcKiv0 nolink]
Stoli: What made you realize that your vocal talents could take you so far in the music biz?
Chauncey:   Man, I have to tell you.   I have been wanting to do this since I was three years old.   By four, I actually used to perform in my a few of neighbors living rooms.   Then started by high school I started coaching everybody else.   Really it wasn't until I started directing music in Boston that I realized how far I could go with my own music.   I actually was upset about the way my relationship with my girl was going at the time.   And that time it wasn't her fault.   It was mine.   I wrote a song about it.   Its called "Scared."   I was just venting my own frustration. I wasn't trying to write a song.   I just turned on my video camera just to record myself messing around on the piano and I started playing these old school chords like they used to play in church back in the day and I started singing the first words that came to my mind.   "Scared baby of you,   don't know what to do…   From the first moment that I laid my eyes on you,   you had me and all my attention baby…".   I posted the video on youtube and had 1000 hits the first night.   I was like wow!   I can do this!  
Stoli: How did you end up in Boston, MA and what do you think about the   music scene there?
Chauncey: I ended up coming to Boston to visit my girl at the time. The church she attended was looking for a musical director.   And she told them about me.   I was just supposed to be here for the summer.   But right when I was about to leave I got the feeling that I was supposed to stay here and make Boston home.   I can't imagine where I would be if I hadn't stayed.   Moving here was the best decision I've ever made.
iTunes – "Derailed":
Stoli: How did you hook up with Hideousman Entertainment and how do they assist with your career?
Chauncey:   lydje lahens one of the producers, songwriters and partners of Hideousman saw my video on youtube,   fell in love with the song and contacted me.   The label asked me if I was interested in being signed and making my own music.   I thought they were playing at first.   As far as I knew stuff like that only happens in movies.   But they were for real and that next weekend they drew up a contract to prove it.   And I know you are supposed to say what I'm about to say about them.   But I truly mean it.   These guys are in this business for the right reasons.   They introduced me to a couple of producers (lydje, Surefiremusic, J Rize, Djalo etc…), engineers (Big T Prod) and some MCs (lyrical) that believe in me.   They have created a safe environment for me and they push me to go beyond anything I've done before.   They are just like me in that they believe the artist is one of the most powerful people in the universe.   And that music can do what almost nothing else can.   It can lift you,   excited you,   chill you and thrill you.   (I need to put that in a song.   Lol). Nah but for real these guys are incredible.   What we do together is all about telling the truth.   Sharing your gifts with the world.   Making everybody feel good.   Just cause we can.
Stoli: You started in the music industry as a songwriter. Can musicians still hire you for that and how do you
Chauncey:   I love writing songs.   It just comes so easy for me.   I write in every genre.   Some days I write 10 songs in a couple of hours.   I just save them on my laptop.   I have way more songs than I know what to do with.   I love writing for different artists with unique voices and a new twist or sound that's never been heard before.
Stoli: Your family background consists of African-American, Native American and Irish-American origins. How has each ethnicity helped shape you as a musician?
Chauncey:   Huge question.   As far as the native american traditions goes, the greatest contribution is in their openness to nature and the universe.   The ability to perceive how everything in the world makes a necessary contribution.   Every creature,   every sound.   This openness is reflected in my song themes, harmonies and rhythms.
As far as the irish american tradition,   I have been surprised at how similar it is to the African american tradition.   The strongest contribution to my music from this ethnicity is in the melody, lyric and storytelling tradition.   There is this great tradition of maintaining connections with your history and heritage by singing these great "bar songs" for lack of a better term.   These very strong diddies about exemplary people in the family or people in the neighborhood.   They tell these great stories of everyday people that take on an almost mythical significance in these songs. These songs become anthems of identity that stand the test of time Which pare passed down through the generations.
As far as african american in addition to technical aspects of song structure and blues and jazz chord progressions, the greatest contribution here is the role of the song as a life force.   The ability of a song to transport you to another time and place.   The ability of a song to lift you out of the mud and mire and place you on a solid rock.   All that's african american because our music is how we've gotten here.   We would have not survived if we couldn't hide our most precious truths in our music.
Stoli: Fantasia recently attempted suicide with pills prior to her new reality show premier. What do you feel about musicians taking the "any press is good press" too far?
Chauncey:   Another huge question.   First off I have to say that I am a man of faith.   I believe that as long as a man has breath in his lungs there is hope.   In even the most desperate situation.   I never understood the option of suicide.   It just seems like a cop out to me.   If there was a way into the situation there has to be a way out.   "All press is good press?". Its hard to say.   There is so much information on so many things out there.   And people's memories are extremely short.   So there may be some truth to it.   But I certainly hope not.   Lol.
I'm not familiar with the details of Fantasia's situation so I can't rally comment on her particular situation.   I love her work, I hope she knows how much she is loved and how special she is and finds whatever she needs to be happy.     I wish her all the best.
Stoli: The recession is taking its toll on love & relationships. What advice can you give to those who are down on their luck but still want to keep his woman happy?
Chauncey:   I'm not sure I'm the best person to ask about this, after all my relationship got "derailed" during this recession but ill definitely take a stab at it.   I think its the little things that makes a woman know how much a man is into her.   She needs the constant reminder and it doesn't have to always involve a price tag.   From my experience something as priceless as quality time goes a long way.   I also think that giving your woman your best love is also important.   A love that consistently reminds her how much you need, value and want her.   A love that heals her and delivers her.   A love that warms her when she's feeling cold and chills her when she's too hot.   A love that lasts.   Then finally an occasional shopping spree could also make a difference. Lol.
Stoli: When you are in the studio how do you keep your voice fresh & sounding perfect?
 
Chauncey:   Technically, I have found that singing everyday makes a huge difference.   I do so much performing now that I stay in good vocal shape.   But also I think you have to eat right, get plenty of rest and live in the moment.   Give your voice permission to reveal where your heart is and surround yourself with producers, engineers and artists who believe in you and want the best for you.
Stoli: What is coming up for Chauncey Moore and where can readers follow you online?
Chauncey: Next up for me is several projects on the musical theatre scene.   I'm doing The Buddy Holly story with a company in Newton, I'm directing the music for Chicago for a company in Cambridge and I'm performing an Elvis tribute concert with a group at Amazing Things in framingham on december 5th.
Hideousman is in Paris, France as we speak talking to a few promoters there to plan a couple of shows and promotional events for the drop of my album "la vie en rose".
There's even talk about a small independent film, but I'm not sure of the details yet so I can't say too much about that.
 
I'm on facebook and every other kind of social networking site there is.   They are all linked to www.hideousman-ent.com and www.chaunceymoore.net.
Well, I think this answers all your questions. Thank you Stoli for all your time.