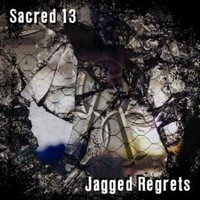 Two words: HELL YEAH!!!!!!   From beginning to end, this new record by Sacred 13 will draw you in and grab your attention.   There should be absolutely no regrets for Sacred 13 as they give you an album worthy of greatness & success.   Jagged Regrets gets ultimate respect from me, as a music fanatic, and I am certain they will gain your respect as well. After you hear this phenomenal record, you will want more Sacred 13!
Sacred 13 is from Erie, Pennsylvania and the group was originally started by: frontman/guitarist–Josh Karickhoff & bassist/vocalist–Gus Ward.   They add in drummer Sam Edwards to complete the whole ensemble.   The music that these three musicians have created on Jagged Regrets is nothing short of amazing.   Sacred 13 is a definite hard-to-the-core rock band, but there is so much more to the picture that makes this group special.   They combine hard rock/metal riffs, sharp melodies and substance-heavy lyrics to make up one awesome sound.
This feeling of intensity is heard loud & clear as I listened to this entire record.   The energy that was being poured into each and every song you could really get a personal sense of.   I was literally blown away from the start of track 1 all the way through to the last note of track 13.   There wasn't one song I didn't enjoy hearing on Jagged Regrets; I loved them all!   Besides some kick-ass guitar playing, I equally enjoyed Karickhoff's style of singing where he displayed a rough edge to his voice.   I was diggin' this whole damn record so much so that I even started yelling out 'YEAH!' at times along with banging my head in approval.   I couldn't help myself; these guys rocked it out hard as I was really feelin' the music that truly hit me.   And if rockin' out isn't enough to make your day then how about a meaningful song like "Tomorrow" to help complete you.   On this track, the idea of living for the here and now is stressed and I couldn't agree more!   Additionally, you get an excellent acoustic number on the song titled "Out of Time" along with an in-your-face, aggressive & melodic version as well.   Here Sacred 13 is proving to you that they are more than just a hard rock/metal band from PA; they are a multi-dimensional act with huge, huge potential in the music world.   To make matters even better, the hard-hittin' trio even did a cover of a classic Beatles song "I Am The Walrus".   The Beatles being at the top of my list and that song being a favorite of mine, I was curious to see how Sacred 13 would do.   I have to say that I was pleasantly surprised and I simply loved this version that added some hardness to the original.   I believe that all of the Beatles, past and present, would have been proud of Sacred 13's attempt at recreating a masterpiece.   Finally, Sacred 13 surprises again by ending the record on more of a tamed yet extremely smart note with "Somewhere".   The reason I said smart note is because this track is a definite radio-friendly song that has Top 100 written all over it!  
The number 13 sometimes is associated with being unlucky for the superstitious kind, but Sacred 13 lay that myth to rest here with Jagged Regrets.   No luck needed here for these three artists; all skill, talent and the will to make great music for the masses.   These guys are heading straight to the top FAST and really should be already, so get ready for Sacred 13!   For more on this exciting band from Pennsylvania and their brand new release, SKOPE out www.sacred13.com.   Also, definitely check out their last two records Remanence from 2008 and Tattered Memories from 2009.  
By Jimmy Rae (jrae@skopemag.com)
[Rating: 5/5]