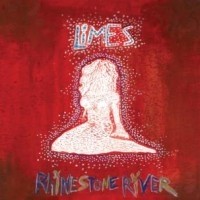 In yet another decent, if slightly sluggish release from underground garage legends Goner Records, Limes prove that you don't need to assemble air-tight, immediate songs to make the kind of garage rock and roll that sticks with you. Yet the title of "Garage rock and roll" is a little misleading: there is very little "Rocking" on Rhinestone River, but enough "Rolling" to keep that proverbial stone heading down the road for quite some time.
All twelve of the tracks on Rhinestone River possess the kind of loose, jangly charm that feels as warm as the first beer of the evening. The thing is, at times, Rhinestone River manages to plod along with the efficiency of a deathly hangover. "Sounds Like A Shimmy," which clocks in at under three minutes, is a glaring example: with its hazy arrangements and Shawn Cripps' murky vocals, by the end of the track, you feel like you've spent half an hour under Limes spell. And Rhinestone River definitely manages to drag the party out much longer than you'd expect it might. But between the polite, jazzy feel of "Do You Mind?" and the ghostly shakedown of "Good Times" there are tracks that plod so haphazardly, you begin to wonder why you came to the party in the first place.
Still, you have to applaud Limes for sticking to a unifying vision. Rhinestone River may feel akin to both the party and the hangover, but if you stick with each long enough, you might attain the clarity that can so rarely come with both.
By Joshua Kloke
[Rating: 2.5/5]