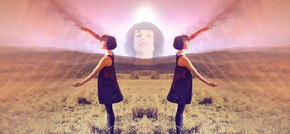 Melbourne Australia psych-electronic group Miami Horror have just released a brand new video for their track "I Look to You" off their debut album Illumination, out this week.
Directed by Phillip Sage, the clip finds Kimbra wandering a sweltering, mostly barren landscape, as the video gradually descends into a string of psychedelic mirages. As Kimbra engages in a Tai Chi-esque dance and the sun beams down, surreal camerawork begins to take over, echoing the psychedelia-infused track. Water dissolves into clouds, images are mirrored and intersecting, as steam rises from the scorching ground.
I Look To You from Miami Horror on Vimeo.