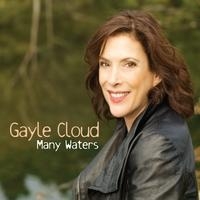 Just picture yourself sitting under the clouds daydreaming as you try to make out figures & shapes from each and every passing cloud.   That is exactly the feeling you will get after experiencing Gayle Cloud's Many Waters.   Gayle has created a world full of peace, love & tranquility on this new album.   Cloud invites you in to feel & hear all of the many wonders, joys and waters that life has to offer you.
Gayle is a Seattle-based singer/songwriter that blends pop, folk, dreamscape and world influences together to make up one unique sound.   The important factor here is that Cloud is an artist who just simply cares and she proves it here: "Musicians and songwriters can play a fascinating role in life.   I think we are often able to express in a magical way some of life's intense experiences for other people.   I love writing songs that help fuel people's desires and courage in their own lives."
The CD starts up with the title track "Many Waters" that has the calming & soothing sounds of water to go along with an incredibly pleasant vocal performance.   Nothing more relaxing than the sound of flowing water and Gayle Cloud captures this whole scene by taking you to an exotic & spiritual place.   Going into the next song "Bombay", you sense right away that this musician has a worldly/international appeal.   Overall, the record is low-key music that I'd like to refer to as cleansing for your mind, body & soul.   That's why it is such an unexpected yet welcoming surprise on track eight, "Turn Around Loverboy" where you get a pop/rock feel and strong rock guitar presence.   Honestly, I would have loved to hear more surprises like this mixed in, but I understand where Gayle was taking this project.   Adding in more fast, up-tempo tunes quite possibly could have taken away from the entire purpose, meaning & message behind this record.   I understand if Gayle did not want to take this risk because it could have changed the whole make-up and tone of this album.   I see now that Gayle Cloud probably made the right choice by not making too many drastic changes from song to song.   Gayle ends things with a song called "Open to Love" where you sense this artist being so sincere and so honest.   You're not just hearing a song about love but actually feeling it in all its glory–amazing job!
Besides Gayle's very nice voice that is overly comforting, you also hear a fine touch of piano throughout the 10-track recording.   This record is music that will make you stop and think while also giving you a good feeling.   You will receive a sense of fulfillment & self-enrichment as if you just got out of church when this CD concludes.   Forget about life's worries for awhile and give Gayle Cloud and her Many Waters a chance.   For more on this talented artist from Washington and her new release, SKOPE out www.gaylecloud.com.  
By Jimmy Rae (jrae@skopemag.com)
[Rating: 4/5]