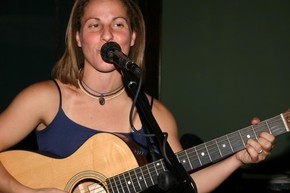 I am getting so tired of all the depressing news that the mainstream media wants to constantly barrage us with. So I have decided to feature an artist that is beating the recession one CD at a time. Andrea Nardello is an independent singer/songwriter from southern New Jersey who has sold thousands of copies of her album 'Until Now' both digitally and physically. Andrea not only creates wonderful music but she knows how to get the people to pay for it as well. Andrea is back with her sophomore album, 'My Aeroplane.' Join us as we chat with Andrea about her new album, how to fold the CD packaging, the Utica Music Festival, and much more!
Stoli: Where are we talking from today and are you upset the summer is turning to fall?
 
Andrea Nardello: We are talking from my couch today in NJ :) Crazy, busy weekend and I'm in need of some down time before heading to Denver tomorrow. I'm not necessarily upset that summer is ending but I am shocked that it flew by once again. I am a fan of all four seasons and Fall is my favorite season so I'm actually pretty excited for the leaves to change color and to be able to hang out in jeans and a hoodie.  
 
Stoli: At what point in life did music become more than a hobby and a real tangible career option?
 
Andrea Nardello: When I recorded my first album was when I realized that I could do this as a career. Once I had a professional recording and started touring I knew it was the right path for me. A lot of doors opened up and I quickly learned about all of the different options available for independent artists. You have to work extremely hard but it's totally worth it.
 
Stoli: You released your debut album in 2007, 'Until Now.' What made 2010 the right time to release 'My Aeroplane' and give fans new music?
 
Andrea Nardello: Everything really fell into place for this album. The timing of when I met the people that I chose to work on the album and collaborate with was huge. I met my band members about two years ago, met my producer shortly after, and through another fellow singer songwriter at a music festival in upstate NY I met the album designer last year. Having enough material is always a plus :) We finished recording in 2009 but the album design, mixing and mastering took some additional time so releasing the album in 2010 just made more sense. I was getting a ton of requests from fans for a new album so I was very eager to get the album finished.        
 
Stoli: You sold over 3,000 copies of 'Until Now.' How did you do that and will you use the same strategy on this album as well?
 
Andrea Nardello: Touring was definitely where I sold the most albums. I also used CDBaby and Digital distribution sites like Itunes. I did a college radio campaign with the Planetary Group that got me a lot of exposure as well. I am definitely going to use more approaches this time around now that I have some experience under my belt. You will see more online radio shows, radio interviews, broad daylight performances in major cities and tv showcases as well. I've also teamed up with Foley Entertainment to help promote the new album and I couldn't be more excited.  
 
Stoli: I really enjoy your songwriting style. Where does most of your inspiration on what you are talking about in your songs come from?
 
Andrea Nardello: Thank you for the compliment on my songwriting, it means a lot to hear that from someone who reviews albums. I would definitely say that all my songs, except for maybe 1 or 2, come from personal relationships and experiences or people in my life and experiences they've been through. Writing is also an outlet. Sometimes happiness or turmoil can spark a song and writing it down releases those emotions which can often turn into a great song. As silly as it sounds driving gives me inspiration. I've always been a road trip kind of kid and driving is my time of reflection so I will come up with ideas, melodies, and lyrics when I'm driving. I usually write it down or sing it into my Iphone so I can come back to it later.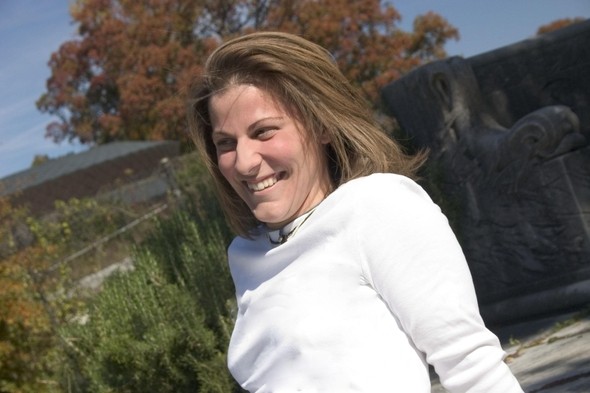 Stoli: Your CD packaging is much more than that as it can actually turn into a functional paper airplane. How did you come up with this clever idea?
 
Andrea Nardello: Is that not genius??? I was not the mastermind behind that brilliant idea. I originally wanted to name the album, These Days. But my producer, Aaron Levinson, suggested we name the album, "My Aeroplane" as it's part of the lyrics in the song These Days and he felt we would be able to do more with the album design and he was so right. My producer and I were driving in my car together and he looked down at my buddy Tim Emmerick's album and was blown away by the artwork. He looked at me and said, "you have got to get the guy that designed this album to do your artwork." Tim introduced me to Brian Grunert at White Bicycle and after sending him some songs and the album title he called me with the idea. When he told me the idea I was thinking the old school airplanes and maybe when the case opened you see the wings of the plane as the panel and the nose and tail of the plane as the other panels. When he sent me the mock up I was completely blown away. Never in my wildest dreams did I think the album cover would be this cool and creative. Brian was great to work with. The album art really brought the whole package together.  
[youtube m68NygREGfg nolink]  
Stoli: You will be playing the Utica Music Festival in September. How did you get booked for that festival and what can attendees expect from your set?
 
Andrea Nardello: I think I originally got booked for that through SonicBids and this will be my third year performing. The drive to Utica, NY is amazing and the town is so receptive to live music. I will be performing two nights, Friday night at 8Pm at Griffin's Pub and 5Pm on Saturday night at Hotel Utica. My sets will be solo acoustic and you can expect a nice mix between old and new songs. I always perform with passion and energy, I think sometimes people are taken back because they expect a timid, folk style performance from a tiny 5 foot girl and that is the complete opposite of what they get. The Utica Music Festival is a great time and you get to see a ton of talented musicians throughout the weekend.
 
Stoli: What is the most humbling thing about being a musician and putting your art out there for all to hear?
 
Andrea Nardello: I am constantly amazed at the talented musicians and artists that I get to perform with and watch while on the road. I am always trying to find ways to better myself as a songwriter, guitar player, and singer but I think it's so important to stay humble. Being a musician is extremely vulnerable and to put my heart and soul out there for the world to listen to is scary at times. But I've pretty much learned that you need to have tough skin and you need to make every performance the best performance you can give otherwise what's the point?
Andrea Nordello "Lie To Me" MP3:
Stoli: Do you ever find that your music gets in the way of settling down and havimg a family or do you not want that?
 
Andrea Nardello: Plenty of musicians have families. I really don't think that should keep someone from settling down. I come from a big Italian family so family is extremely important to me. That being said, I'm definitely not ready to start a family. I want to accomplish a lot more before trying to settle down. My little nieces fill that void for now, hence the song Bella :)
 
Stoli: What other female musician would you love to open up for and that you respect & admire?
 
Andrea Nardello: If Janis Joplin were still here she would be top pic! It's always hard to pick just one artist but I would have to say the Indigo Girls have been my biggest inspiration and opening for them would be an honor. Patty Griffin is trailing a close second though!
 
Stoli: What is coming up for you & where should we follow your every move online?
 
Andrea Nardello: I am so excited for upcoming festivals, shows and tours. I will have my first performance at the Bitter End, October 19th, which is so exciting. I will be touring in the fall to New England and the Southeast so fans can stay connected to tour dates on my website (www.andreanardello.com). My album was nominated for a grammy in the contemporary folk category so I am pumped. I will also be releasing a live album in 2011 from my sold out show at the Tin Angel in Philly. I have a lot going on and I'm constantly on the move so fans should definitely get connected to me on Twitter, Facebook, Myspace, and Reverbnation.  
www.andreanardello.com
www.twitter.com/andreanardello
www.facebook.com/AndreaNardello
www.reverbnation.com/andreanardello
www.myspace.com/andreanardello