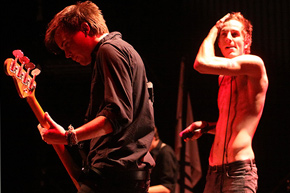 Last Friday, Arizona's The Maine made their long-awaited stop at the State Theater in St. Petersburg for their first headlining tour, "An Evening With The Maine", bringing pure rock n' roll and a shower of confetti with them.
The past year has been an interesting one for the Maine and frontman John O'Callaghan(or better known as John Ohh).
In July, they made their major-label debut with sophomore album Black and White, produced by Howard Benson, who has worked with renowned artists such as My Chemical Romance, Flyleaf, and The All-American Rejects.
Along with the new album came the announcement of their first headlining tour, which brings us to where we are now.
Opening the "evening" was Austin Gibbs, joined by brothers Alex and Sean Silverman from This Century, whose mix of acoustic-pop and southern rock, though on opposite ends with The Maine, made for a very refreshing and fun start. Following Gibbs was aforementioned pop-punk rockers This Century, which brought the Silverman brothers back on stage to their respective instruments. Despite audibly having more in common with The Maine, there was some tension, something that was even noticed by lead singer Joel Kanitz, who frequently voiced his frustration with the crowd between songs, not to mention the total awkwardness of daylight still being out at an event promoted as "an evening".
Not too long after This Century finished their set with "To Love And Back", daylight had finally ceased, and fans eagerly awaited for the evening to really start. Once the house lights were killed, the amount of pre-teen girls screaming rose to an ear-shattering level. Amps lit up with the Maine's logo added even more excitement, and cued an insane amount of camera flashes Opening with "Inside of You", John Ohh, sans a shirt and his band played through the beginning lines and upon reaching the chorus, were basked in a sea of confetti and colorful stage lights, making for a picture-perfect scene and lively intro.
For fan-favorite "Girls Do What They Want", Ohh invited Gina from Tampa on-stage to sing the chorus, though not without taking the time to teach it to the nervous fan. The smile seen on Gina's face, who was joined by her ecstatic friend that jumped on stage, was a smile that the entire crowd shared. From that, it was easy to say that the rest of the evening would go swimmingly.
Among other things, a highlight of the night was a very relatively-intense cover of The Clash's "Should I Stay Or Should I Go", bringing new energy and life to a song plagued by countless dull and lackluster covers. Which is surprising and at the same time a great feat for a band who is too often regarded as your typical "pop-punk" band. Though The Maine may have an overly-polished image, its live that their true rock n' roll tendencies are revealed. The shower of confetti and Ohh's ink can attest to that.
This Century
The Maine