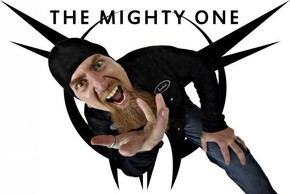 Presently TheMightyOne has 2 radio/video promotions going that encompass all of North America. In Canada TheMightyOne has been doing a radio promotion for their single "Reprieved" which has been featured on major rock FM stations from Vancouver B.C. to St. Johns Newfoundland.
Their French version of "Reprieved" is in regular rotation in Montreal and Quebec City. The song has also been released in German. The video is receiving play at Much Loud, part of Much Music and the Corus entertainment network. The song was produced by Devin Townsend (Steve Vai, Strapping Young Lad, The Devin Townsend Project). The promotion is being done by Bill Miller and Pitbull Promotions here in Vancouver.
[youtube xYZ4Bpmxaok nolink]  
Tinderbox Music in Minneapolis is promoting TheMightyOne to over 300 college stations in the US and Canada, with over 70 stations adding them to their regular rotations. They are experiencing serious traction in mainstream radio markets. A new record is under way entitled "Shift" that will feature a track with Ivan de Prume the original drummer of White Zombie fame. The song is called "Awakened" that has a heavy but, super groovy dance floor vibe and will be released soon in promotion of the up coming album release. It has a universal approach to the awakening spirituality that a lot of people are feeling right now as old structures crumble. A live show is also in development, plans of some fall touring, and their focus of making their presence known at SXSW in the spring.   They've also signed a number of licensing deals and expect to receive some great exposure in the fall TV season and video game releases.
Tell me about growing up in Canada and when music became part of you.
Music has always been a part of my life, even from my earliest memories. I got a Sears drum kit when I was about 6 and remember jamming with my Dad who was the organist at our church. My Mom always was singing, playing the flute or the accordian. I grew up in a German family in rural northern Canada and there were always lots of family get togethers where music played huge part of our lives. Our family would regularly perform at the church on Sundays. I also joined the choir and really got my foundational understanding of harmony there. As a teen, when I started adding distorted guitars to hymns, I was gently encouraged to find other ways to express my creativity. That's about when I left home and started a band.
 
Who were your influences?
I think those beginnings obviously had a huge impact on me but things really exploded when I got my first Kiss album, Destroyer. Let's face it, Kiss is the full package. The show, the swagger and the memorable songs. After that is was VanHalen which was all that and more. I actually was part of a VanHalen tribute for years and we ended up finally becoming an original VanHalenesque band and signing a speculative multi million dollar deal with Paul Stanley and Polygram records. Unfortunately it was right around the time Nirvana and grunge purged loud and proud rock n' roll. I've never really lost that basic 'bigger that life' approach to my songwriting, production and live show though, and still employ those basic principles with TheMightyOne.
 
What do you want listeners to get from your music?   What are saying in your lyrics?
My music is inspired by my personal life. My first record in a lot of ways chronicles my failed first marriage, the fear, the anger, the hurt, acceptance and then the healing that I experienced as I went through the process of the divorce and of writing the album. Extreme emotions make for amazing song and are beautiful therapy. However I take great care to portray the story in a universal way so each listener can connect in their own way. It's a journey through fear to love…..like what's happening in the world right now.
 
The live show we are presently developing will have the theme of "as above so below". Recently I've become very interested with what is happening in space. How things like full moons, eclipses, and solar activity have a direct impact on what happens on the earth physically, spiritually and emotionally and economically. The live show will definitely have a 'space,' 'out of this world' vibe to it.  
www.themighty1.com
www.numberonemusic.com/themightyone
www.sonicbids.com/themightyone
www.twitter.com/the_mighty_one
By: Diana Olson – diolson05@yahoo.com