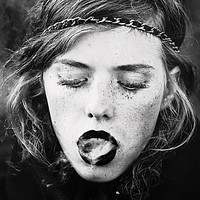 The Bay Area quintet formerly known as In Reverent Fear has remerged with a new name and a new album. I can't say that the name "Stomacher" is a trade up from their old one, but their quasi-debut is definitely worth noticing. Sentimental Education is riddled with poignant ambience and heavy bass -driven riffs that fall somewhere between Radiohead and The Cure without being derivative of either.
The CD kicks off leaning on the swelling gloom of songs like "Ghost Wail" "Behavior" before shedding some of the bleakness in favor of the upbeat pop of "Pesant Song". The peppier songs rely on tambourines, keyboards, crash cymbals and lots of enthusiasm to intermittently drive the album forward. The mix if the gloom and pop throughout the album stops the album from stalling out on the slower songs while maintaining its haunting veneer.
However, Stomacher doesn't rely on formula to pull them through either. The band gets experimental on tracks like "The Devil", which offers a sort of symphonic, pastoral folk ballad with an industrial chaser. And "Any Joan a Lady" incorporates a weird barbershop type harmony in its chorus that gives it an extra ghostly feel. However cool the effect, "Any Joan" commits the crime of being a couple of minutes too long, growing stale by the end of its five minutes.
The lyrics double the effect of the ambience, utilizing short impressionistic lines that are filled with guilt and desire. The album would make a perfect soundtrack to a Graham Greene novel.   Lyrics like, "Peasant. Lay me down in all your straw. A savior's birth I will call it. Just don't keep me from the light. I won't even try to believe, still I know you'll come for me," dovetail eerily with Greene's The End of the Affair.
But what makes this CD even better is that Stomacher will give it to you for free. A quick visit to www.stomachermusic.com will net you a free download. So there's really no reason not to go check them out.
David Feltman   – djfeltman@gmail.com
[Rating: 4/5]