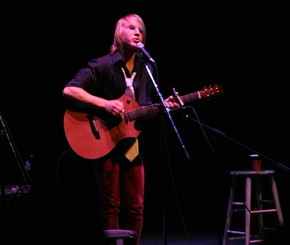 At just 19 years young, this immensely talented musician from Edmonton, Alberta, Canada has already got it all figured out.   This up-and-coming musician started off playing solo as a folk singer/songwriter at the age of 14.  
Five years later and still a teenager, Tanner Gordon now performs hard-edged, grungy folk music with his band the Unfortunates. Tanner has already played over 100 shows in Canada where he has also been the headliner at sold-out concerts.   It's amazing to think that this teen has already experienced so much success but that the best is yet to come.   Just like Tom Petty sang: "The future is wide open" couldn't be truer for the young Canadian.   You will see that Tanner Gordon eats & breathes music as it literally consumes his life 24/7.   The passion is deep as Gordon sets out on his quest to be a top-notch artist in this music world.   He is well on his way as you will find out while reading through this wonderful interview between myself and Tanner Gordon.  
   
Jimmy Rae: At just 19 years old, how is it that your material has such an adult feel?   You've been said to be wise beyond your years; would you agree and where does this inspiration come from to be such a grounded artist at such a young age?
Tanner Gordon: Most days I feel a lot older than nineteen. It's like I've been around and experienced a lot of different times to bring the inspiration to life. I'm not sure the material has an adult feel; I like to think of it more as a universal feel to it.   Music that everyone can relate to. Music audiences can feel. Every song has a different story, in the way that every song comes from a different place. During the creative process, I tend to become these characters of the songs. Feel the way they do. It all starts with a dream and from there the inspiration is born.
I am humbled by the statement that I am wise beyond my years. If people believe that, it is because I am well-studied. I feel prepared and ready for this journey. I spent my childhood with headphones on buried in lyric booklets and autobiographies. Learning how all the different artists twisted words or how they used run on sentences. I took the storytelling of Dylan and Young. I took the heartbreak of Ryan Adams. I took the Grunge of Nirvana. Raine Maida and Eddie Vedder taught me how to be cool and write songs people can sing to. And it goes on and on and on. I studied all of them and loved all of their differences and tried to create my own unique sound. I began creating my story.
The thing that keeps me grounded most is a statement that a great musician friend of mine once said "No one owes you anything in this world; you have to show them why they should". Anything I've accomplished I've earned and I truly believe that hard work pays off.
Jimmy Rae: You refer to your sound/music as 'tattoo folk'–why is that and what is the meaning behind it all?
Tanner Gordon: Tattoo Folk started as a simple observation a journalist made in a local newspaper. She pointed out that all of the men singing these grungy kind of folk songs were all tatted up. I took that imagery and ran with it I guess, seemed too good to pass up. My reasoning behind tattoo folk is that music is a feeling not a sound. In the way that a tattoo hurts to get done translates into the creative process of a song. In the way that tattoos are permanent, we feel like the sounds we are creating will be a lasting movement. You can see it in the crowd especially in the younger audience the way they react to the sound, the way they embrace the feeling. It's very exciting because it's just getting started.  
Jimmy Rae: You've been writing songs since you're 14 and have EP's and other work dating back 5 years and what blows me away is that when other kids your age were just messing around being teenagers; you were taking life and your music so serious.   What made you stand apart from all of your other peers?  
Tanner Gordon: I've always felt like there's more to the story. I've been so afraid of running out of time for as long as I can remember.   I've felt like I have to create now before it's over. It's a strange statement; I am aware of that but I feel like I have the ability to create something others can feel and something they can relate to. I guess I was just paying more attention than my "peers". Everything around me gave me inspiration. Something as simple as a man begging for change sparked an entire album and it's always been like that. So I took my ability to create something from noting seriously from a young age and began forming songs and making EP's. When I felt I was ready, I made my first album and grew from there. Since then, I have played over a hundred shows and made more records.   But each time there's a different excitement because the albums come from a different place each time.   There's a different Tanner in a way and before I knew it there were more songs and recordings that I could count flying around from person to person.
Jimmy Rae: Your full length album is said to be about 'endings'–is this true and is this the overall theme throughout the record?
Tanner Gordon: The idea of endings came from a journalist's perspective of the album. It is most definitely a concept album, which was new for me. The first song I wrote for the album was "lynn". I could see it in my dreams and I felt it coming long before I wrote it. I didn't write another for three months after it. I knew my music was changing and I knew I was too. I feel that the theme came from this struggle and went from there. This idea of ending and losing touch of everything began forcing me to become these characters and develop "calm down". Each song has a unique story but in a way remains the same. I believe this theme of ending and losing touch is a very relatable idea because it's a feeling everyone understands. The album was a very healing idea for myself.   "You're not alone, but you're not ok".
Jimmy Rae: When you're not doing the music thing, what's Tanner Gordon doing for fun?   A typical day in the life of a 19 year old Tanner-Gordon-style of course is what I and the Skope audience are lookin' for.  
Tanner Gordon: When I'm not doing the music thing? I call that time dead air. The time in between me being on and off the stage. A day in the life is working a 9-5 job paying bills and day dreaming of new song ideas mostly. As soon as my day job ends, I go to the venue or band practice, set up and begin feeling "right". That time on stage is absolutely precious and I long for it during the "dead air". It's the time when I can feel whole; there's a sense of belonging. Truly feels like being home. The days end by going to a local pub after a show as sleeping is not an option for an insomniac songwriter. Then get up and do it again.
Jimmy Rae: I know you were writing songs at 14, but what really peaked your interest in music early on?
Tanner Gordon: My earliest memory is hearing the song "clumsy" by Our Lady Peace and immediately making my mother drag me into the nearest HMV and pick up a copy of the album. I loved it. I loved every guitar strum and every syllable out of his mouth was gold. I wore the lyric pages right out and played the disc until it had burn marks on the bottom. I studied it front to back every night. The obsession started there and never ended. I began searching for more and more. By junior high I knew every song in every catalogue and was ready to make my own.
Jimmy Rae: Wondering if the teen girls in Canada are screamin' your name yet?   (:   And I bet they'd like to know if Tanner Gordon is single or not, so what's the verdict? lol
Tanner Gordon: I actually had my first "Bieber Moment" on Canada Day this year! Teen girls screaming my name is actually a lot more exciting than these big stars let on or maybe they've grown accustomed to it but I was smiling pretty big. Those are the fans you love to play for because they totally embrace not only the sound but the artist as a whole.
In a side note, I don't wear a ring on my finger.
Jimmy Rae: Is Canada the place you've always lived?   And being there now, do you live on your own or with family or with roommates?  
Tanner Gordon: Yes born and raised in Edmonton, AB, Canada. We love music, hockey and beer. I live in a house with roommates. I feel like I've driven my parents crazy enough times for one life.
Jimmy Rae: What other type of work do you do besides your music?   In school or going to school? When in school, what subjects and activities were you really into?
Tanner Gordon: Yes I work 9-5 every weekday and play shows at night. I don't see myself as ever going back to school because when I was in it, all I ever dreamt of was getting out. To be completely honest I wasn't really into any subjects. I disliked my inability to be completely free with my writing most of the time. I spent most of my time in the art studio playing guitar and watching people paint or on Whyte Avenue in local vinyl stores.
Jimmy Rae: Who are you main influences?
Tanner Gordon: I was influenced differently by so many artists but some that stuck out the most for me were Neil Young and his free way of writing. Bob Dylan's no fear reinvention of himself. Nirvana's distant but real feeling that it had. Pearl Jam's direct kind of emotion they portray. Our Lady Peace and their perfectly written crowd songs. And last but not least, Ryan Adams and his ability to twist a story and its words so easily.
Jimmy Rae: Besides singing & guitar, any other instruments you play or would like to learn how to play?   Any other areas of the music business/studio you'd like to get involved with?
Tanner Gordon: I mostly stick to guitar and vocals. I have this old great organ that I don't know how to play. I would love to start trying new things with different instruments. The Unfortunates are all multi instrument talents. I would love to do more hands on recording and studio work with other musicians as it is a very rewarding process.
Jimmy Rae:   What are your personal goals in life?
Tanner Gordon: There's only one goal and that's to be heard. I am very focused on making this happen, but some days are better than others. I've always been willing to play for anyone who will listen. "You can't eat applause for breakfast" but I never been very hungry anyways.      
Jimmy Rae:   Is your real name Tanner Gordon and where did you come up with the name The Unfortunates?   How did you guys initially meet and then decide to make a band?
Tanner Gordon: As far as I know it's my real name. I got lucky I guess. I had a weird enough name where I didn't have to change it to seem cool you know. The bassist in the group, Tim Plamondon, brought it to my attention one day and there was really no conversation on it. It seemed like a perfect fit and we haven't looked back. I was so tired of going by Tanner Gordon & His Band; as I started as a solo artist and had already released records by the time I met the band. I met Tim at work and found out he played guitar and had a friend who was a great drummer as they used to be in a punk band (Stickfigure). I needed a band for a bar gig I had coming up and after the first jam these guys were in. We later added Bryce Thornton on guitar and old friend of mine who was very excited about the project and The Unfortunates were born.
Jimmy Rae: What's next here for you and your music career?
Tanner Gordon: My main focus has been the same from day one. I plan on playing as many shows as I can, making as many records and meeting as many fans along the way as possible until my body completely shuts down. I feel like I have a lot of potential and I'm in a position where I am only getting better each time around. I'm excited for the future and whatever comes next!
For more info, SKOPE out www.tannergordon.com.
By Jimmy Rae (jrae@skopemag.com)