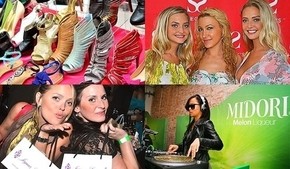 Shecky's Girls Night Out is BACK in Boston, August 3rd-5th! Gather the girls for an evening of shopping, delicious complimentary cocktails brought to you by Midori(R) Melon Liqueur, plus fab Goodie Bags. Request your favorite jams or dedicate a song to your bestie (awwwww).
Date: Tue.-Thu., Aug. 3rd-5th
Time: 5pm-10pm
Place: Boston Center for the Arts – Cyclorama
539 Tremont St. (Clarendon & Berkeley Sts.)
SPECIAL OFFER
*Gen. Admission + Shecky's Goodie Bag: Only $20 (reg. $30) with code SKOPE (exp. 8/5)
General Admission: $10 in advance
NOTE: You must be 21 years or older to attend this event. Proper ID will be required at the door. All promotions and ticket offers are subject to change at any time. *Only Shecky's Goodie Bag tickets include a Shecky's Goodie Bag. Contents and value of individual bags vary.
Today's Midori Mixes Guilty Pleasure
 
Blast from the Past: Katrina and the Waves
It's one of those songs you hear everywhere: in the waiting room at the dentist's office, during half-time at a basketball game, in shopping malls and afternoon traffic jams, in the movies and in television shows. To commemorate the 25th anniversary of "Walking on Sunshine," the band's record label is re-releasing four of the quartet's albums: Shock Horror!, Katrina and the Waves, Katrina and the Waves 2, and The Bible of Bop from guitarist and songwriter Kimberly Rew, which features songs from the Waves, the dB's and the Soft Boys.
Midori(R) Melon Liqueur, 20% alc/vol (40 proof). Imported by Suntory International Corp., New York, NY. Distributed by Skyy Spirits, ©2010 Please enjoy responsibly.