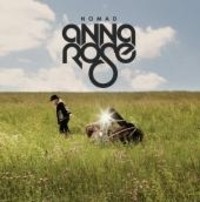 When I reviewed the EP, I mentioned that I prefer female rockers that can also deliver a ballad.     After many years of listening to just about every genre on the planet, I'm very picky when it comes to personally judging female singers.        
Anna held my interest as a storyteller, and that her favorite artist is Jimi Hendrix probably had something to do with it.   I reiterate that the material and delivery is interesting, a little reminiscent of Joni Mitchell and Heart, while changing tempos.   What a concept on this compilation of songs (all written by Anna), storytelling without       The daughter of noted composer Alan Menken, she grew up playing first the piano, then guitar at the ripe old age of five.      
The Four Corners has that "Joni" feel to it, quick short phrasing playing off the clicking acoustic guitar backing.   Whispers is a bass led ballad, and Picture is a sharply put together story tune.   I'll Be Gone has a Cajun; Dr. John vibe to it, with some fittingly throaty vocals, and Done carries on the feel.   In The Morning View is an easygoing vocal driven, chord-thumping piece.   Wilshire Blvd. (my favorite song on the release), is a nicely paced ballad, on which her voice comes off softer.   You Got It For Free almost has that Celtic vibe (that I've grown to hate), but some clever guitar work pulls it out safely.   All I Have To Say has a 70's aura, complete with some B3 effects playing against the drums.   Gillian is a slow guitar ballad, with some carefully inserted electric licks, that gives Anna a place to show her range.  
Arlen Roth of guitar lick teaching fame (that Anna calls her favorite guitarist) lends his talents to the disc.   Check it out.   The girl can write and play, as well as sing!  
By RME
[Rating: 3/5]