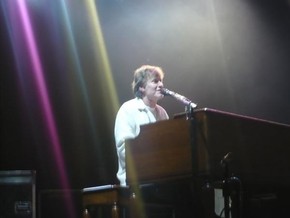 July 7, 2010 was the night when I got to experience two music legends for the first time. On that hot 'n' clear Wednesday night, Verizon Wireless Music Center in Noblesville, IN had the pleasure of booking two legendary acts. Okay, Okay…enough suspense already–you wanna know who I'm talking about right??  
Well my friends, I speak of none other than Carlos Santana and Steve Winwood.   As part of the Universal Tone Tour, Santana and Mr. Winwood have been hitting spots all over the world.   And now on this special night of music, we had the pleasure to watch & hear two artists who have quite an impressive music resume.  
The concert started at 7:30 with Steve Winwood opening up.   I've always enjoyed Winwood's style that includes distinct & sharp vocals to go along with deep instrumentation.   I've always enjoyed the way Steve Winwood incorporated so many musical genres throughout his illustrious career.   Everything from rock and bluesy rock & roll to jazz, Steve has always brought an upbeat & lively sound.   Besides being a multi-instrumentalist playing the guitar, synthesizer, organ, piano/keyboards, bass and other string instruments, Winwood goes down in history as one of the best singers around.   I couldn't agree more that Steve Winwood is an incredible vocalist as he has displayed his talents throughout the years for : The Spencer Davis Group, Traffic, Blind Faith, Go and his solo career.   I was happy to hear Steve's two big hits "Higher Love", which is one of my personal, all-time favorites, and "Gimme Some Loving" from the Spencer Davis days.   Winwood switched back and forth between guitar & piano as he played through the set flawlessly.   His voice was pitch-perfect, which adds up to the fact that Rolling Stone ranked Steve Winwood #33 in its 100 Greatest Singers of All Time.   Winwood has proved for years that his artistry & musicianship is top-notch as he and his talented band still prove this today.   However…there was some disappointment in the air that night unfortunately.   There were three BIG songs left out, which are: "Roll With It (another one of my all-time favorites)", "Back In The High Life Again" & "Valerie" and plus the run time was cut short about 10 minutes.   As a Steve Winwood fan, I absolutely love all three of these songs and I have to say that I was highly disappointed that these classics were not performed.   After Winwood & company exited the stage without an encore, I sat there in disbelief.   I had to ask someone sitting next to me if he really didn't play those huge hits because I could not believe it myself.   This fellow concert-goer did verify that "Valerie", "Back In The High Life Again" and "Roll With It" were not played but there was a rumor that Steve Winwood would join Santana on stage later on.   I now sat back in my seat thinking that there was some hope left for the remainder of the night.
The great Santana came out with an awesome opening of the hit "Jingo", which was one of the highlights of the night for me.   The energy and heavy percussion feel was heard loud & clear while the video running in the background added that cool African tribal feel.   And of course, the patented guitar solos/riffs of the famous Carlos Santana made for one special performance and one hell of an intro!   All I have to say is "Ba, Ba, Lo…Ba, Ba, Lo…Ba, Ba, Lo"…OOOOOhhhh YEAHHHH!   Santana's powerful presence has been felt since the late 60s with his revolutionized sound of rock, salsa and jazz fusion.   Then throw in spicy Latin rhythms brought to you by a flavorful percussion section (congas being my favorite) that has always been a staple of Santana music.   I have always been a huge fan of Santana's style and I was lovin' every second of this opening performance.   The second half of the show was off to a great start!   The set rolled on with some more great songs like: "Corazon Espinado", "Maria Maria (standout lead vocal here)" and "Smooth" all off the 15X Multi-platinum record Supernatural.   I also heard a cooler than cooler combo of "Evil Ways/ A Love Supreme" along with a classic Cream tune "Sunshine Of Your Love" that was covered extremely well.   I also enjoyed the peaceful white dove effect soaring high on the background screen during the set.   The peace and love message was stressed throughout with Santana telling the audience that you are all made of "light & love".   We then hit the vaults to see Mr. Carlos Santana in action live at Woodstock on video.   This timeless image leads into an awesome performance of "Soul Sacrifice" and Santana closes on a fitting note with "Love, Peace, & Happiness/Freedom".   All in all, I was just mesmerized when Carlos would strum his guitar and belt out solos that were nothing short of amazing.   It's no surprise that this artist was ranked #15 on Rolling Stone's list of Greatest Guitarists of All Time.   He definitely gets my vote as best of the best in that department and I got to witness these skills first hand that Wednesday night.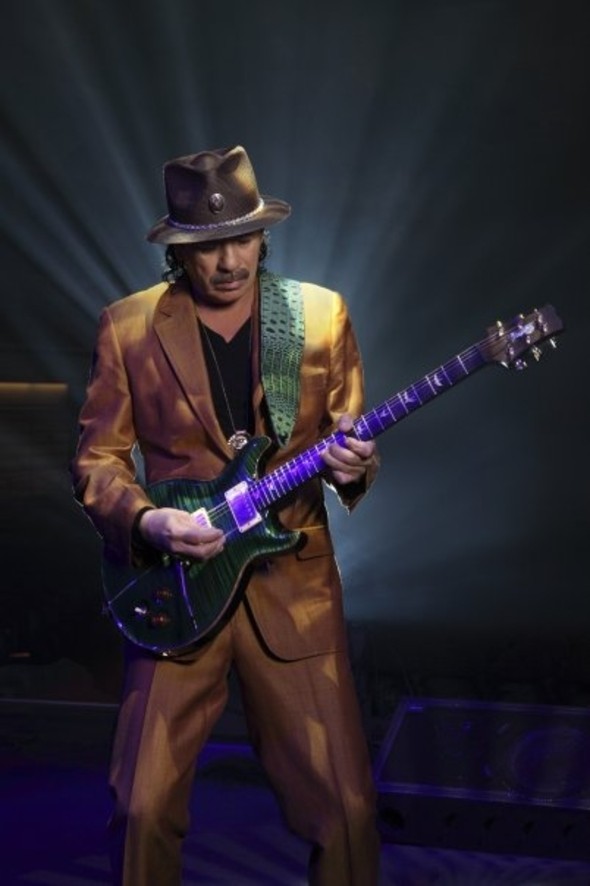 Now…all things that are grand can also have faults and this was clearly evident after the show was all said and done.   For one, I did believe that Santana added too much commentary in between his songs.   I felt the guitar legend was also playing the part of motivational speaker with references to the president, peace and love, legalization of marijuana and how Santana himself said "I don't smoke the stuff because I'm still high from Woodstock".   I guess it was kind of cool adding a bit of nostalgia in the air but a bit over the top for me.   I mean at the end of the day it is concert and call me crazy but I'm there to see all music with less talk.   Don't get me wrong, I love the fact that Santana is so positive & spiritually grounded in life as he spreads his message of hope.   But there is a time and place for all that goodness Santana wants to preach and I don't feel a concert where people spent a lot of money to see you play & perform is that place.   Perhaps if Santana laid off on some of the words of wisdom, that could have allowed more space for other great classics, which leads into my next point.   Two HUGE songs were not included that night and that would be "Black Magic Woman" and "Oye Como Va".   I mean to not play these well-known hits seems like a BIG miss for Santana and his band.   I also would have liked to have heard "Samba Pa Ti", which was also not in the set list that night.   I understand that artists with large catalogues of music have to pick and choose sometimes, but "Black Magic Woman" and "Oye Como Va" should ALWAYS be included EVERY TIME.   To make matters even worse, the concert was cut short by about 15 minutes, which would have been plenty of time to add in these two classics and maybe more!   Remember when I said earlier that there was a glimmer of hope alive after I had heard that Steve Winwood may join Santana on stage?   Well…that would have been electrifying & memorable all in the same sentence but…it never happened folks.   Surprisingly, funk legend Bootsy Collins was backstage and Santana introduced him to the large Indiana audience where he received a nice ovation.   Carlos even invited Bootsy to come out and jam where he said "Get Bootsy a bass".   A chant of "Bootsy" started to develop throughout the crowds, but a Bootsy/Santana jam session did not happen either.   I was really so confused at this point; I really didn't know what was going on and what to expect next.   What came next was my guest and I sitting there in disbelief as Santana exited the stage 15 minutes too early.   We even sat there a little bit longer thinking maybe, just maybe they're not done and we will still hear "Oye Como Va" and "Black Magic Woman".   I think we got our cue that this was actually a done deal when the Verizon staff came over and said we had to leave.   Here's the kicker too: upon further research of Santana's previous shows, Verizon Wireless Music Center in Noblesville, IN allowed the shortest set out of all the other venues with only 12 songs played.   Each venue supplied between 13-17 songs per show and get this, "Black Magic Woman" and "Oye Como Va" were played at every other show!   So…the question here is what happened that night and really what went wrong?   The ones who I really feel sorry for here are the fans who spent their hard-earned money to come out and see a COMPLETE show.   Obviously the fans were cheated in this instance based on my research and because of the time issues.   I know I would and I'm sure everyone else would love to know why Verizon didn't receive the same treatment as any other venue?   I do hope that this can be answered by someone because we, as a whole, definitely deserve to hear the truth.   As an avid concert-goer/reviewer, this is a real shame and I hope that something like this never happens again.   In the end, I have to leave on a positive note because let's face it that's how Carlos would want it.   So…here we go: I'm just so glad that I got to see & listen to one of the best singers and one of best guitar players right in front of my eyes & ears.   For that reason alone, I feel very lucky to have been a witness to sheer greatness.   Here's to you Steve Winwood, Carlos Santana and all the rest of the wonderful musicians who played their hearts out on that hot summer night.   40+ years strong and still blowing away audiences with your timeless music; I commend you both for being GIANTS in the music industry.  
For more info on these phenomenal artists, SKOPE out www.santana.com and www.stevewinwood.com.  
By Jimmy Rae (jrae@skopemag.com)