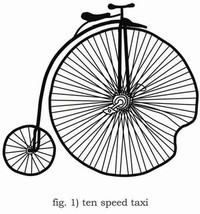 With their ranks comprised of three teachers and a healthcare professional, it is only natural that Ten Speed Taxi injected a healthy dose of intelligence and clever tongue-in-cheek humor into their latest album. Couple that approach to songwriting with their multi-genre sound and their penchant for tight instrumentation and the result will leave you (with) Spinning.
Album opener "Speakeasy" is replete with dirty guitar fuzz and gruff vocals with a tight, clean electric guitar vein that runs through it. The twang lyrical delivery of Doug Schatz exemplifies his Nashville roots and adds a well-placed country nuance. "The Beach is That Way" is testament to the band's quirky sense of humor. Yes, the tight instrumentation is in check, but a close listen to the lyrics proves these guys are careful not to take themselves too seriously… "Cause bicep curls/for all the girls/you know bicep curls/rock their world/they let them know…the way to the gun show/The girls love my gun show." Title track "Spinning" opens to twin guitar melodies, bolstered by sing-songy lyrics. The track invokes Los Lonely Boys instrumentation merged with a Barenaked Ladies tune minus their trademark kitsch. Rounding out Spinning is "Next Train" with soaring rawk guitar run amok and lamentable lyrical matter. Instead of Schatz and Caldwell's guitar work serving as complements, both axes are tuned to the key of "full-on distortion" with bluesy undertones. It is clearly the heaviest hitter on the album.
Fun and intelligent, yet universally approachable, Spinning will have you doing just that. It's like slight country flair, with folksy undertones meets the dark underbelly of geek rock (with the emphasis more on "rock" than "geek"). These guys are as scarily talented at their craft as they are smart about it.    
by Chris West
[Rating: 3.5/5]