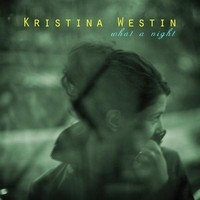 Kristina Westin is giving you a taste of what her upcoming album What A Night will sound like.   On this five-track promo EP, you are getting just enough flavor to know that the new album will be special.   What a day that will be when What A Night is officially released and after hearing this talented singer/songwriter/musician from Sweden, you'll see why.  
Westin is well-known in the Stockholm area, but Kristina is looking to spread her wonderful music all over the United States & beyond.   The Swedish artist actually got started in the late 90s as a lead singer for the band The Valets.   Westin then went on to start up a solo career as an alternative country artist.   Her new EP hangs onto some of those country elements but the main focus now is more of a pop/rock feel.
Kristina is multi-talented and multi-dimensional when it comes to making music; she has been for a very long time.   Westin began singing and playing piano at just 3 years old and later won a talent show at only 14 where she appeared on national television in Stockholm.   Music is in this young woman's blood as she continues along and pushes herself to always be original.   What A Night is a sincere look into the eyes of Kristina Westin as she proves to you that she has much to offer.  
Right from the start on the title track, the music is already getting stuck in your head.   With Westin's fine vocals that are pure to the core, you will automatically become consumed with this woman's voice.   You will also get a genuine touch of acoustic guitar and piano from Kristina who plays it all up nice & subtle.   You honestly receive a deeper understanding of this singer/songwriter/musician just by the way she performs each song.   This is an incredible feat for Westin as she has already connected with the audience and this is just the EP!   All five songs exhibit such strong feelings as the Swedish native truly captures it all.   With catchy pop melodies and a terrific singing voice, this entire recording session belongs on the radio somewhere.  
At the end of the day, I really enjoyed this promo and I can't wait to hear the whole record now!   This Kristina Westin and her band bring to you an honest piece of work that will be widely accepted by many.   Get ready U.S. because Kristina Westin's What A Night is coming soon to a town/city near you!   For more info, SKOPE out www.myspace.com/kristinawestin.  
By Jimmy Rae (jrae@skopemag.com)
[Rating: 4/5]