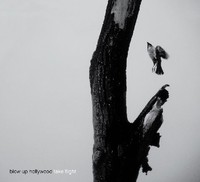 When you hear the title of this band Blow Up Hollywood, one might think for a second that this is a fast, punchy & violent rock, punk or metal band.   BUH actually is none of the above and they are not blowing up anything literally but figuratively Blow Up Hollywood is making a statement.   The music definitely does take flight but not according to standards of mainstream media; that's for sure.  
Blow Up Hollywood comes out of NYC and their sound conveys a serious sense of freedom of expression.   The new project Take Flight is actually the fifth release for the group and it happens to be a very well-orchestrated piece of work.   The 11-track collection is composed, produced and performed completely on analog keyboards by co-founder Steve Messina and multi-instrumentalist Rich Kern.   Take Flight actually was inspired by compositions Kern & Messina wrote for the documentary "Mustang–Journey of Transformation".   The film features Richard Gere as the narrator and the Dalai Lama and was shot in the Kingdom of Mustang in Nepal.   This all makes sense now because the new album definitely has cinematic qualities that shine through on each installment.  
The act of taking flight is captured tremendously by the front cover alone where a bird is shown taking off from a tree.   The meaning behind Take Flight and the concept behind the entire record is explained perfectly here by Steve Messina: "Although they are instrumentals, the songs tap into the idea of flight in general," says Messina. "It's not just the sensation of physically being up in the air, it's about taking flight in your own dreams when you are a sleep, in your own thoughts and the desire to set yourself free, emotional and spiritually."   I couldn't agree more because all of the songs are so deep where the listener will take their own personal journey.   In mind, body and spirit, everyone will have a different experience and that's what makes this recording so interesting.   What you have here is a set full of dreams just waiting to be discovered as each song will leave you in a trance.   The compositions, for the most part, are very thought-provoking and so they will allow your mind to wander for hours even after the disc has stopped.   The sound is very relaxing overall and could be used for relaxation purposes such as meditation for one.  
I, myself, did think some of the tracks were a bit too long and drawn out like "Eos" & "Areal Shift" for instance.   I also didn't feel completely connected as a listener and I think that's because most of the songs were fairly slow-moving for the most part.   I would have liked to have heard some more upbeat/faster tempos, but I understand what Messina Kern were doing here.   Their goal was to capture a dream-like state full of film score elements to make the piece more dramatic.   Mission accomplished for the tag team out of NY but you have to be careful that a person listening to the CD doesn't mistake this dream world for sleepy time.   Overall, the creativity and originality were there but my level of interest was not.   For more on Blowing Up Hollywood and their newest release, Take Flight, SKOPE out www.myspace.com/blowuphollywood.  
By Jimmy Rae (jrae@skopemag.com)
[Rating: 2.5/5]