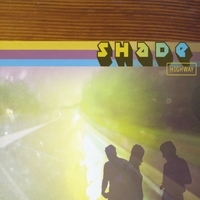 Of all the subjects that popular music has tackled over its long history, one of the most attractive is that of life on the open road. Sure, nearly every artist has an on-the-road song in their catalogue so it is hard for anything on that topic to sound new nowadays. (And let's face it, the road song as a metaphor for life's journeys is one of the laziest clichés in music.)
Nevertheless, the Canadian pop-rock band Shade decided to record its debut as a tribute album full of songs about the road or music that is meant to be heard while traveling. The end result is a 10-track collection of tunes called Highway and it is a surprisingly strong, original effort despite its mostly mellow vibe.
Regardless of the drastic change in tempo throughout, Highway works well as a whole because of Shade's talented members which include lead singer and guitarist Jane Gowan, bassist Mary Harmer, and drummer Cam Giroux. (Guitarist Jon Wood and multi-instrumentalist/producer Tim Vesely also provide spirited work on the album.)
One of the highlights of the cd is the title track which opens the album in fine form. The song, a mid-tempo pop number that showcases the group's cohesiveness, reaches an intriguing finish as an understated trumpet backs Gowan's lush vocals as she sings "Doesn't everybody want to run away sometime?"
Another standout is "Loneliness or Freedom" which, musically speaking, is arguably the most complex with interesting layers that reveal themselves with repeated listening. The song also is home to the album's most captivating lyrics. The track is about how hard it is sometimes to distinguish between being free or being lonely and whether one is possible without the other.
Even though those two songs are strong, the faster, more upbeat numbers on Highway like "Closer" and "Drive Backward" tend to be the most memorable and that is because their sound fits the album's themes best. Both numbers seem like they would sound great on a car radio with their 80s era college rock vibe of jangly guitars and catchy melodies.
As for the rest of the album, there are some ballads and melodic pop songs sprinkled throughout that remind one of Cat Power but they don't grab one's attention as much as the other tracks.
Still, the entire album sounds professional as hell and Gowan should get plenty of credit for that. The lead singer has played with numerous bands in the past both as a leader and as a featured player. It will be interesting to see how Shade evolves in the future with the combination of her and her band mates' talents. For now though, Highway is a fine debut for the Toronto band and its originality should open up some new roads for the group.
Author – Todd Sikorski
Artist website – http://www.shademusic.com
[Rating: 3/5]