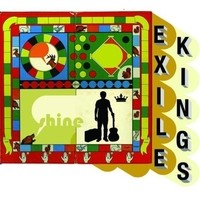 Exile Kings is a New York City based Indie music project started by musician & singer/songwriter Manoo Halati. This is his debut CD entitled "Shine". When the Exile Kings play live it consists of 3 other members: Hommy Rossa (Drums), Dan Austin (Guitar), Paul Merson (Bass) so it's a 4 piece in that respect.
 
Logging in at just over 40 minutes, the CD kicks things off with "This is not Enough" a dynamic intro piece that serves up driving rock rhythm, infectious vocal harmonies & accents with catchy chorus. Track 2 "Continuous" shifts gears a bit with a steady flowing rock vibe against ambient guitar rhythms, & soothing vocal layering & harmonies. This coupled with mesmerizing lyrical content makes for an interesting musical statement. Track 3 "Learning to Breathe" serves up naked piano intro against electronic percussive accents, eventually lending itself into an impressive ballad with passionate vocal delivery from Halati. This CD makes a great first impression. Right from the start you will notice rich musical textures overflowing everywhere, full of passion, variety, & strong melodic structure. The songs themselves are addictive, & packed full of passionate lyrical content & subject matter that simply cannot be faked. I can hear many different musical soundscapes reminiscent of such classic acts such as Oasis, & Jeff Diamond, with perhaps a splash of Social Distortion. The music itself is an impressive blend of alternative & acoustic rock, & punk. What I like most about the music is Manoo Halati. makes no attempt at sugar coating the truth, in fact he tells it with bold honesty. His voice goes down smooth, but has a rebellious jagged edge to it reminiscent of Noel Gallagher (Oasis) & Mike Ness (Social Distortion). His guitar playing (rhythm & solo) is equally as impressive, & the writing, playing, & singing abilities of Manoo Halati are impressive. From epic "All that you are", & Chasing Ghosts" to ballads "Autumn Son", & "When you are Broken Down" Shine pretty much delivers From passionate "Shine" to my personal favorite "Anything you Want" this CD has something for just about everyone. The CD ends with "Dust in your Eyes" a perfect finale statement with lyrics that read "This is for the blood on the street & millions of feet that keep marching on. This is for the hope & the dream that one day we'll see that we are just one." Now that's world class songwriting!    
 
Track 4 "All that you are" dragged me to the finish line. Track 5 "Autumn Son" felt like an incomplete statement that builds into nothing, lacking either another musical part or climactic ending.
 
Shine is a impressive musical production from top to bottom. The music is clean, goes down smooth, & the messages are passionate & are sung from a deeply honest perspective. It's strong suit — the amazing creative genius of Manoo Halati. He possess enough musical talent & songwriting prowess to be dangerous. The musicianship is first rate, the songs are short and sweet musical experiences. Each one possessing a unique personality, flair, and signature groove. Lastly – the playing, writing, and singing abilities of Manoo Halati.& his band are amazing. Manoo Halati has clearly proven himself with this release, & is worthy of attention, spotlight, & praise. I guess could go on and on all night about Exile Kings, you simply have got to get your hands on some of their music. You should start with   "Shine" to see what I am talking about. It's pretty much amazing!
www.exilekingsmusic.com or www.myspace.com/exilekingsmusic
By: Cyrus Rhodes
[Rating: 4/5]